In 1965 when Arkansas Sen. J. William Fulbright publicly expressed the private concerns he had long harbored about growing U.S. military involvement in Vietnam, President Lyndon Johnson blew his top.
LBJ had known for some time that the influential chairman of the Foreign Relations Committee had profound misgivings about the president's policy, systematically shifting the burden of waging a Vietnamese civil war from the South Vietnamese army to American soldiers. Fulbright had been privately pressing his view on Johnson to little effect, so he went public.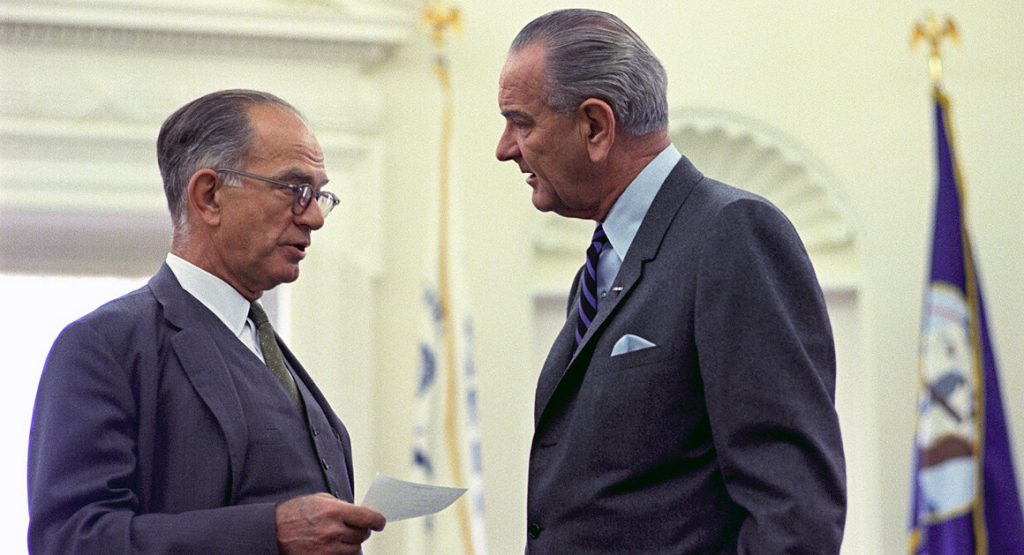 Arkansas Senator J. William Fulbright and President Lyndon Johnson
Johnson, who could be almost as mean in private as President Donald Trump is in public, complained to an aide that Fulbright "is a cry baby — and I can't continue to kiss him every morning before breakfast." The public criticism by a Democratic senator of a Democratic president effectively ended Johnson's relationship with Fulbright.
But, occasionally history has an interesting way of rewarding political dissent. Today Fulbright is remembered as among the earliest and most prescient voices in opposition to the American tragedy in Southeast Asia. Johnson's presidency was destroyed over the war and the 58,000 Americans and the millions of Vietnamese who died will forever define his legacy.
The Johnson-Fulbright history is worth recalling in the context of how virtually every other senator who has chaired the Foreign Relations Committee in modern times viewed that role in relation to the White House. The words that define that relationship would be "independent" and "equal."
By contrast, a year into his tenure as chairman of the committee, the approach of Idaho's James Risch stands out like a skunk at a garden party. Risch contends his approach — maintaining access to Trump, but never publicly taking issue with anything — is working because as he put it during a recent interview with Boise's KTVB, "I think it's good for Idaho and it's good for me."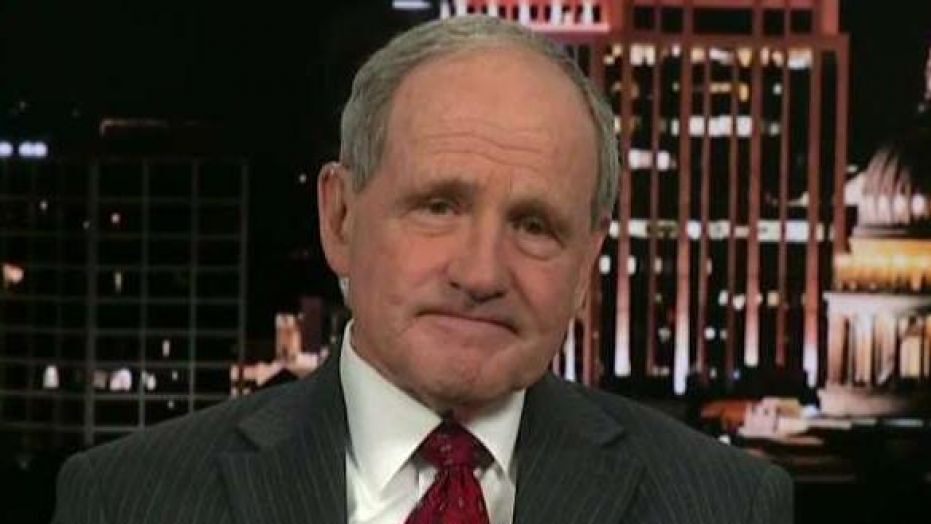 The chairman of the Foreign Relations Committee is among the most consistent endorsers of Trump foreign policy
But the evidence in plain view tells an entirely different story. If Risch really enjoys the vaunted influence at the White House he claims — "I have some influence on what happens in the White House," he told KTVB — it's difficult to see how that influence is impacting American foreign policy in any positive manner.
Trump's decision to kill Iranian Maj. Gen. Qassem Soleimani, a demonstrably evil influence in the Middle East, was immediately endorsed by Risch who parroted the shockingly thin administration assertions that Trump acted on information indicating the Iranians were planning imminent attacks on Americans.
"His death presents an opportunity for Iraq to determine its own future free from Iranian control," Risch said just hours before the Iraqi parliament voiced support for the withdrawal of U.S. forces from Iraq, a decision, should it happen, that would turn Risch's assertion on its head. Rather than diminish Iranian influence the administration has enhanced Iranian influence.
Meanwhile, while endorsing the "we must act" mantra of the administration, Risch has squandered a chance to help craft something approaching a coherent policy to replace Trump's ignorant, impulsive and frightfully dangerous policy of threat by tweet. Additionally, Risch has yet to answer why the attack on Soleimani, an option open to previous presidents but rejected by them, happened when it did.
As Bloomberg News put it: "If Soleimani presented an imminent threat, why was Trump given several retaliatory options that didn't include Soleimani? If there was an imminent threat, how would killing the top general end that threat? And if Team Trump has lied about everything, why wouldn't they lie now?"
The administration's justification for the attack has shifted with the news cycle and you can bet Risch will stay the course with Trump, no matter how scattered and incoherent the ration-ale becomes. Yet, the bigger question is simply: What now?
An independent chairman of the Foreign Relations Committee would have moved immediately to conduct hearings, sought the advice of experts on the region and attempted to shape what happens next. But Risch knows that any real effort to grapple with the reality of what Trump hath wrought would involve stinging bipartisan criticism of Trump's haphazard, dangerous "make it up as you go" foreign policy.
Trump, a thin-skinned, pseudo tough guy, would interpret any critique as disloyalty and almost certainly would lash back. So complete is the president's hold on people like Risch that the senator dares not utter an even remotely critical comment, even when the stakes amount to war and peace.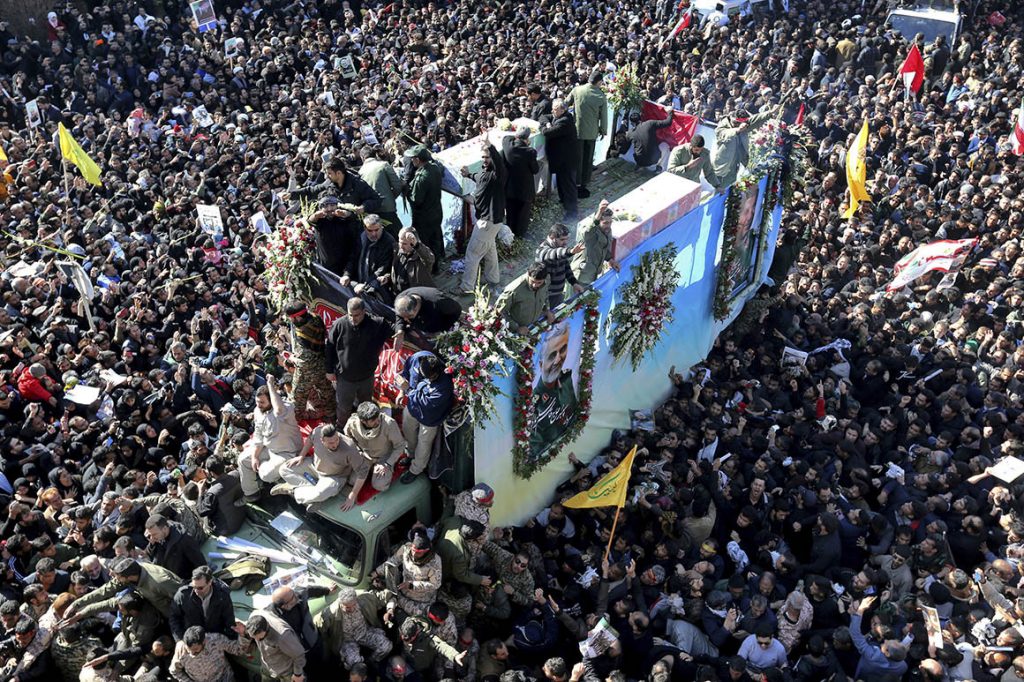 The funeral of Iranian General Qassem Soleimani in Teheran
Risch admitted as much in the Boise interview. "Look, I don't go out and criticize him publicly," he said, claiming "spirited conversation" takes place in private, where he's able to exercise influence. Yet, consider the facts behind Risch's assertion.
On Risch's watch, the efforts at detente with a North Korean dictator who sent Trump "beautiful letters" continues to unravel. Trump's precipitous decision to withdraw U.S forces from Syria has strengthened Russia in the region and enhanced Turkey's reach. Both countries, by the way, are close to Iran. Iran has resumed its nuclear weapons program after Trump's Risch-endorsed decision to abandon an international agreement to contain such an effort. NATO is weaker than it has been at almost any time in the post-World War II period. And the post-Soleimani turmoil seems almost certain to give ISIS a new lease on life.
If Risch truly has exercised positive influence behind the scenes, it's far from evident. In fact, the opposite seems more probable in that whatever influence he has is lost on Trump, a reality Risch came near to admitting in that recent interview. "He is different," Risch said of Trump, "his decision-making is different."
No kidding, which is why a person holding the premier position in Congress related to foreign policy must be more than a partisan determined to hold his tongue to maintain dubious "influence." Risch's servility enables, even encourages the reckless Trump activities we've seen in the first days of 2020.
"What is the point of having a Congress if it has no say about a new American war?" The Atlantic's George Packer asked recently. Good question. And why have a Foreign Relations Committee chairman if he's not willing to publicly engage the president?
Risch actually had an answer for that during his KTVB interview. "When I've (privately) disagreed with (Trump) he has never, ever treated me with anything but the greatest respect. Now, I'm sure that would change dramatically if I went out on TV and tried to take it on like that. But, but, you have to deal with it as it is."
By choosing to follow, not lead, the senator has made a historic, career-defining blunder. The mistake has never been more obvious than it was this week.
—–0—–