There is only one reason why a twice impeached, once defeated, twice indicted serial liar continues to threaten the very foundations of American democracy and seems almost certain to be the Republican presidential candidate again next year.
And the sole reason cannot be placed at the less than humble feet of the Peach Prince of Mar a Lago.
Donald Trump was always going to be Donald Trump. The people who have known him for years knew of Trump's narcissistic personality disorder, a condition that requires him to always and forever be at the center of everything. He must always be right and if challenged for being wrong there is but one possible response: lie, exaggerate and bluster in hopes of getting out of the corners he inevitably paints himself into.
We knew Donald scammed contractors at his less-than-successful hotels and casinos. We knew the man broadly embraced by evangelical Christians was certain to brag about his sexual conquests and, of course, he did. One of those "conquests" ended in a recent Trump civil conviction for sexual abuse and defamation. When Trump subsequently called the victim (and the winner of the case) "a whack job," E. Jean Carroll sued him again and a judge ruled that that case could proceed.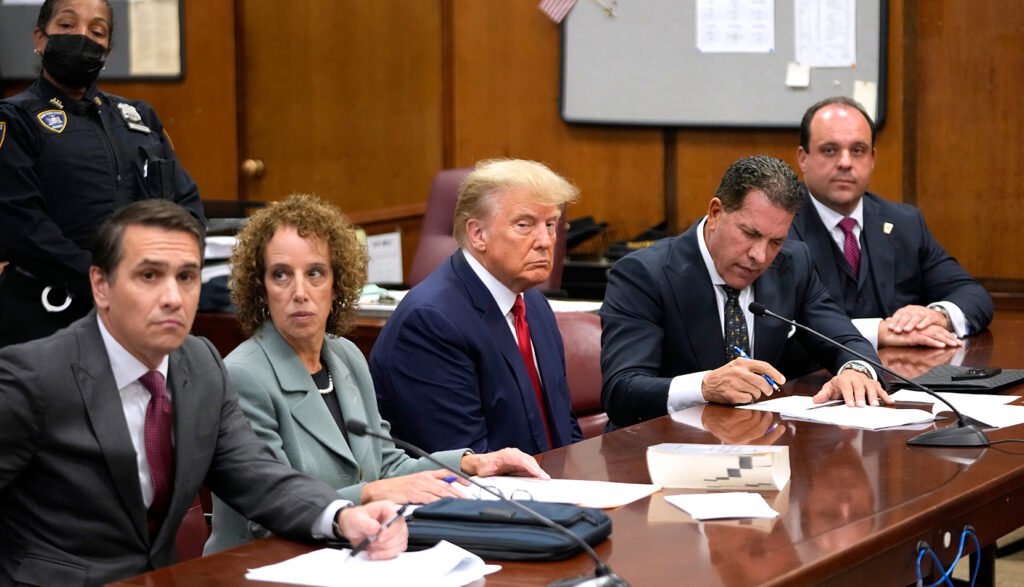 His former attorney general and defense secretary say the top-secret government documents Trump secreted away to a bathroom (among other places) in his gaudy Florida club is all the proof needed that the man they once worked for it a serious threat to national security. But we knew that long ago.
Trump proved he's a threat when he stood side-by-side with Vladimir Putin in Helsinki in 2018 and embraced Putin's propaganda over the analysis of his own intelligence agencies. He proved it again when he tried to shake down the president of Ukraine to manufacture dirt on his political opponent and again when he summoned the mob to attack Congress and his own vice president to prevent certification of an election he clearly lost.
But as the old saying goes: don't blame the cat for not being a dog. Or in the present case, don't blame a life-long con man – former attorney general Bill Barr calls Trump a "fundamentally flawed person who engages in reckless conduct that leads to situations, calamitous situations" – for being a life-long con man.
Here's who we blame: the gutless, shameless enablers and character deficient toadies in the American conservative movement who could have sent Trump permanently back to Mar a Lago on any number of occasions and punted at every single opportunity. These folks, the senators and congressmen, the political straphangers, the consultants and campaign hacks, the big money donors, the podcasting grifters, the Tucker Carlson-types who made money and soiled reputations, those folks are the true guilty parties.
Rather than dispose of the cancer growing on American democracy, a cancer now spread to the most important of the nation's political institutions, including the Supreme Court, the guilty ones fed the disease, acting like character and facts and basic honesty were as fungible as a phony degree from Trump University.
It didn't have to be.
Contrast the lickspittle response to Trump's law and norm trashing by the vast majority of elected Republicans with the British Conservative Party's recent slashing, decisive and ultimately disqualifying banishment of former prime minister Boris Johnson. Boris is smarter and cleverer at lying than Trump, but the two share the same crude narcissism and penchant for lying that has warped their respective political parties.
The Tories first cashiered Johnson as leader last year during a cascading series of political scandals that culminated with a raft of resignations from government by senior Conservative Party leaders. That happened after Boris initially appeared to survive allegations that he had broken the law and his own government's Covid health care guidance while drinking Champagne with partying staff at Downing Street.
But because politics in the UK is not yet as broken as it is here in the former colonies that wasn't the end of the road for the foppish fraud. Parliament commissioned, unanimously by the way, an extensive study of whether Johnson had purposely mislead the House of Commons, and by extension the country, by lying about, well, a whole bunch of stuff.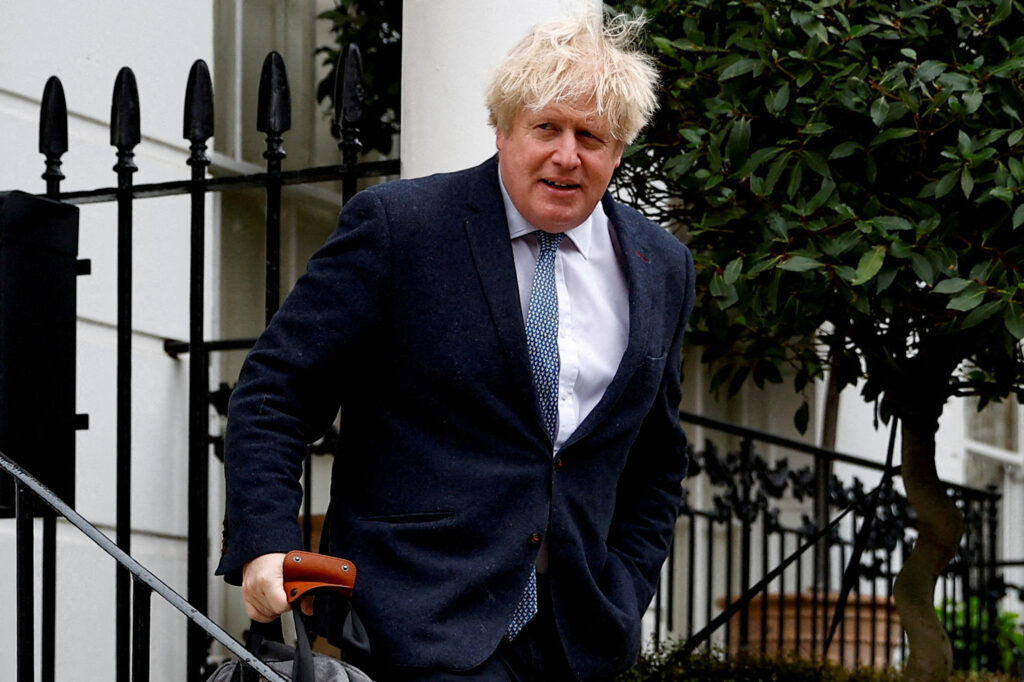 Last week Parliament voted 354 to 7 to accept the detailed and damning report, an outcome Johnson telegraphed last week when he resigned as an MP rather than be suspended from the Commons. Johnson's resignation statement was so over the top, so full of Trumpian bluster and blame shifting – Johnson termed the multi-party investigation a "kangaroo court" – that it caused one female MP to describe it as the "narcissistic howl of a man child."
Gosh, does that sound like anyone you've heard on Fox News lately? Anything to learn here from the new world looking at the old? Apparently not.
One must wonder if Mitch McConnell, now hoping to capture a Senate majority next year with the Trump anchor lashed to his plans, wakes up every day knowing he could have forever cut that anchor free with an impeachment conviction – not once, but twice.
Imagine if Kevin McCarthy, the very temporary owner of the Speaker's gavel, had lived by his words condemning Trump for the January 6 riot and had done all possible to prevent him from soiling his party and McCarthy's future.
The enablers could have abandoned a confessed sexual abuser in 2016, and now they have as a leading candidate a cartoon character credibly accused of violating the Espionage Act.
"They have had so many off-ramps and yet they just won't do it," says Charlie Sykes, the Never Trump pundit. "Part of it is they engage in this magical thinking. They think that, well, something, something … unicorn and maybe he'll die and maybe we won't have to take a stand."
But magical thinking is just magical thinking. Integrity requires action.
Harriet Harman, the chair of the investigation that led to Boris Johnson's defenestration by his own party said it best: "Because he was prime minister, Johnson's dishonesty – if left unchecked – would have contaminated the whole of government, allowing misleading to become commonplace, and thus erode the standards which are essential for the health of our democracy."
That's it. That's the story of the Trumpified Republican Party. It didn't have to be. And you know who to blame.
—–0—–
Additional Reading:
A couple of other items worthy of your time …
Hubert Humphrey Was an Isolationist — Until He Went to the Segregated South
"The southbound trip on the Illinois Central, with its terminus in the kingdom of Jim Crow, began the most transformational year in the life of the man who would become an unabashed liberal, Lyndon Johnson's loyal vice president and the Democratic presidential candidate who lost to Richard Nixon. The political leader he would become in later decades — a champion of civil rights, a fighter against anti-Semitism, and an interventionist in world affairs — took form during the 10 months he lived in Baton Rouge and studied at LSU."
An excerpt from a new book on Humphrey by Samuel G. Freedman.
---
From the bookshelf: 'The ghost at the feast'
Here's a book I can unreservedly recommend – Robert Kagan's The Ghost at the Feast, a provocative and intelligent look at American foreign policy from 1900 to U.S. involvement in World War II.
"Kagan argues that global leadership was thrust on America from the beginning of the 20th century by the collapse of the British world order, the rise of Germany and Japan, and ultimately World War I. The US had become the world's leading economic power and dominated the world economy even more than it would following World War II. The new reality was that the US held the balance of power in world politics and was seen as the only country capable of ensuring a peaceful and democratic liberal world order."
This book is why I love history …
---
The Koch Network's Anti-Trump Ads Are Atrocious
This piece by Tim Miller explains a good deal about why the Peach Prince of Mar a Lago will be the GOP presidential candidate – again.
"So, here's my advice for rich, elderly Republican types who have a billion dollars to burn and want to do their part to ensure they don't live out their golden years in a Trump autocracy. 
"Either: (A) Man up and do what is required to try to beat him in a primary; (B) Use your resources to help Joe Biden, who has a proven strategy for beating Trump; or (C) Give the money to help poor kids who don't have enough to eat."
From The Bulwark.
---
See you soon. Thanks for reading.
And … my new book is available for pre-order. Here from the University of Oklahoma Press or from the Bezos Empire … or coming soon to independent bookstores. All the best.