"Hillary Clinton's admission that she has pneumonia after allegedly becoming 'overheated' at a 9/11 event has even some in MSM acknowledging that the issue of the Democratic candidate's health can no longer be ignored, as her tour has been put on hold." 
How the Russian media outlet RT is covering the Clinton health story.
———-
A few days ago Washington Post columnist Anne Applebaum, a noted writer on Russian and European history and politics, outlined what seems to me a highly likely scenario regarding the American presidential election.
Vladimir Putin, Applebaum wrote, is not so secretly attempting to undermine the U.S. electoral system, indeed his aim may well be to destabilize American democracy. It may sound farfetched, but then again the evidence may be hiding in plan sight.
We should believe that Putin, the creepy Kremlin leader and a former KGB apparatchik, is meddling in the election because he has done it before and, in fact, he does it all the time.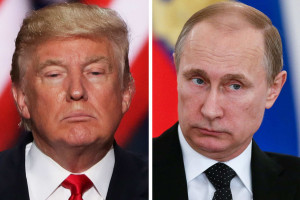 What Americans might be waking up to – we can hope – is that in Putin's attempt to interfere with a U.S. election he has for the first time, as an earlier generation of Moscow leaders might have said, "a useful idiot" to help him in the person of Donald J. Trump.
Here's Anne Applebaum's informed speculation in a nutshell:
Trump continues to say, as he already repeatedly has, that if he loses the election to Hillary Clinton the whole system must be "rigged," the polls are "wrong" and "real voters" have been ignored. He constantly complains that the "dishonest" and "corrupt" media is out to get him.
Meanwhile, Russian Internet hackers will continue to use a third party – Wikileaks – to disseminate emails pilfered from Clinton or George Soros or some nameless bureaucrat somewhere in order to, as Applebaum says, "discredit not just Hillary Clinton but also the U.S. democratic process and, again, the 'elite' who supposedly run it."
Before Election Day or even on Election Day hackers will try to create havoc with one of more state election systems. They don't need to succeed; just trying will be enough to confirm the suspicion, already firmly planted by Trump and others, that the election is "fixed." The FBI, we already know, has warned election officials in Arizona that the election machinery may have been compromised. Imagine waking up on November 9th with Clinton having narrowly won Arizona – polls show her within striking distance there – and then imagine what Trump does and says.
I'll quote Applebaum directly regarding the next step: "The Russians attempt to throw the election. They might try to get Trump elected. Alternatively — and this would, of course, be even more devastating — they might try to rig the election for Clinton, perhaps leaving a trail of evidence designed to connect the rigging operation to Clinton's campaign."
What a perfect KGB-like operation: Plant a trail of evidence "proving" that Clinton "stole the election." It all reads like a John Le Carre thriller, but somehow doesn't seem all that farfetched. "Once revealed," Anne Applebaum writes, "the result will be media hysteria, hearings, legal challenges, mass rallies, a constitutional crisis — followed by confusion, chaos and an undermining of the office of the presidency."
No Matter What – Putin Wins…
Here is the particularly pernicious aspect of the Russian meddling: there is no downside for Putin or his objectives. Putin wins no matter the outcome in November.
Suppose Trump wins the election in which case Putin gets his useful idiot in the White House and ends 75 years of Republican skepticism about all things Russian.
Or suppose Clinton wins amid allegations that the election was rigged or stolen. Putin still wins with a weakened American president who is immediately discredited as "illegitimate" by a sizable chunk of the electorate.
Under any scenario the Kremlin gains in its real aim, which is to destabilize western democracy, weaken NATO and diminish U.S. standing around the world. These aims also help explain Putin's objectives in supporting Brexit, the United Kingdom's pending exit from the European Union, his encouragement of hard right elements in France and elsewhere in Europe and his embrace of Syria and Iran.
But the critical element in the Kremlin strategy is the utility of the fake billionaire from Trump Tower. Without a major party presidential candidate like Trump, a guy who surrounds himself with advisers with ties to Putin, who praises the Russian dictator as a better leader than the American president and then grants interviews to Putin's international disinformation network, the election meddling and propaganda campaign would be a good deal more difficult to pull off.
As the Washington Post pointed out Trump's recent interview with Larry King on the Putin financed propaganda channel RT was all about dissing news coverage of his own campaign. That message fits perfectly with Putin's larger aims. Alexey Kovalev, a Russian journalist and translator who runs a blog dedicated to exposing misinformation in Russian media, put it this way: RT's "mission now is not to report on Russia but to tell everyone how bad America is. There's a huge audience for that, not just internationally but in the United States as well."
Republicans who continue to lionize Ronald Reagan must wince just a little that the new face of their party now echoes the Kremlin line. "Reagan never gave interviews to Pravda while campaigning to be our president," Michael McFaul, a former U.S. ambassador to Russia, wrote on Twitter, referring to the official newspaper of the Soviet Union. "Who advised Trump to appear on RT?" Who indeed?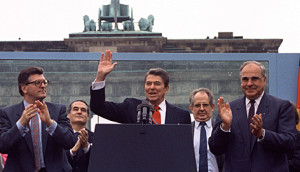 Nothing motivates the GOP presidential candidate more than money, so that fact may offer the simplest, if a no less comforting explanation of the Trump-Putin alliance."Russians make up a pretty disproportionate cross-section of a lot of our assets," Donald Trump Jr. told a real estate conference in 2008 and it has been widely reported that his old man has been trying to cut a fat hog in Moscow for years.
Even if you don't buy the full extent of Anne Applebaum's conspiracy, just consider this: Is there anyone who knows anything about American politics who would have predicted two years ago that the Republican candidate for president would have at the center of his candidacy a bromance with a Russian hatchet man? Four years ago Mitt Romney, you remember him, was condemning Russia and Putin as our nation's greatest strategic threat. In fairness to Romney, many allegedly smart people in both parties disagreed with his assessment. Now Mitt looks like a genuine prophet.
Not only has Trump embraced Putin and essentially offered cover to Russian outrages in Ukraine he has neutered GOP hawks like John McCain who are left to mumble, as House Speaker Paul Ryan did last week, that Vladimir Putin really isn't a nice guy. The former KGB agent really isn't a nice guy, but he may understand U.S. politics better than many American voters.
Nothing Like This Before…
So, has anything like this ever happened before, has a foreign power ever attempted in such a comprehensive way to mess with a presidential election and influence American policy? The answer is both kind of and no.
One somewhat analogous historical precedent is the presidential election of 1940 and the tumultuous foreign policy debate immediately preceding U.S. entry into World War II. While far less obvious than the Russian effort in the current election, Britain clearly tried to influence U.S. politics, policy and public opinion – with willing help from Franklin Roosevelt – in 1940 and 1941.
British-born historian Nicholas John Cull has documented the extent of the British effort in his 1995 book Selling War – The British Propaganda Campaign Against American "Neutrality" in World War II.
During the 1930s, as Cull has written, British policy "explicitly forbid any such endeavor in the United States," but that policy changed as the war situation darkened after the fall of France in 1940. British policy makers began to believe "through judicious use of propaganda and publicity" that they might "undermine U.S. neutrality and somehow sell Britain and a second world war to a skeptical American public."
A key tactic was to plant "subversive propaganda" through a network of middlemen – "cut outs" they were called – who were charged with distributing up to "twenty rumors each day with the 'leading home reporters of the New York and Chicago papers.'"
Given the sensitivity at the time to the notion that Britain was trying to maneuver the United States into the war, public disclosure of a propaganda campaign or covert lobbying of Congress would have been politically explosive. The British, however, deemed feeding useful information to popular reporters, both low risk and effective. They used a well-connected political operative with relationships inside the government and with columnists and radio personalities like Walter Winchell and Dorothy Thompson to shape public and political opinion. Over time the effort was quite successful.
However, what Winston Churchill's government did not do, unlike Vladimir Putin's, was attempt to hijack an election or destabilize American democracy. There is no obvious historical precedent for what has been quietly happening in plain sight with Trump's campaign.
Now with media obsession focused on Hillary Clinton's health, an issue sure to dominate news coverage for days, and with the Kremlin's candidate climbing in the polls we may learn just how sinister a former KBG henchman can become when at last he has a useful idiot in the Oval Office.