"The past is never dead," the great novelist William Faulkner wrote in Requiem for a Nun. "It's not even past."
In the spirit of Faulkner the Idaho Legislature often seems to be the political equivalent of the Bill Murray's character in the movie "Groundhog Day," constantly reliving its flawed past, recycling old notions and re-igniting controversies once consigned to the political ash heap.
The legislature may have dodged a bullet pointed at its own foot this week when apparently cooler heads prevailed and Republican leaders pulled back, at least temporarily, from forcing a vote on a revamping of the state's approach to reapportionment. The task of redrawing legislative and congressional district boundaries needs to be done after every census. Done the old way, with intense partisan log rolling and insider deals, reapportionment is about the most political act imaginable.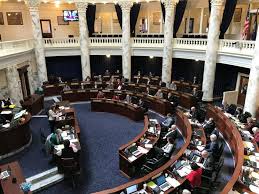 On the face of it, the recent reapportionment proposal, pushed by Representative Steven Harris, a Meridian Republican, is a blatant attempt to put the partisan back in redistricting. Harris hasn't been around long enough to know – he's in his third term – and like most replacement level Idaho legislators he clearly doesn't remember what a mess reapportionment was when it was a blatant cutthroat partisan contest, a self-interested slugfest that ultimately reflected poorly on both political parties.
Harris's proposal, pulled back from a vote in the House early in the week, but still alive and thrashing about would have added a seventh vote to the existing constitutionally mandated citizen's commission that is designed to force compromise and prevent either party from automatically having the upper hand when it comes to legislators picking their voters instead of the other way around. Voters overwhelmingly approved a change to the state constitution in 1994 to, as much as possible, take partisan politics out of redrawing legislative district lines. As things now stand the citizen's commission is evenly divided between Republican and Democratic appointees. It's a setup requiring accommodation and mandate fair dealing.
Under Harris's proposal the new member would be selected by a vote of the state's top elected officials – at the moment all Republicans, of course. That seventh member, beholden to elected Republicans, would automatically become the commission's decider, the partisan legislative line drawing czar. Such power no person should want or have.
The scheme would be, as the Idaho Falls Post Registerpointed out in an editorial, a license to gerrymander and to what end, carving up Ada County to thwart recent Democratic gains there? Prevent growing Boise districts from encroaching on traditionally Republican Canyon County? Punish Democrats for having the audacity to hold a whopping 21 of the 105 seats in the state legislature?
A bit of history is informative. In 1982 a lanky, laconic, litigious lawyer from Coeur d' Alene by the name of Ray Givens tied the Idaho Legislature in knots with his legal challenges to Republican inspired reapportionment plans. Three different Givens-inspired cases went to the state Supreme Court challenging plans the legislature crafted. Givens won, at least in part because partisan lawmakers put their own interests before the interests of their voters. Givens was awarded substantial legal fees, which for a time the legislature refused to pay, so the crafty litigator slapped a lien on the furniture in legislative hearing rooms. It was a first class mess, but none of the current legislative crowd was around to remember the turmoil.
More trouble followed in the early 1990s when again partisanship trumped the basic democratic necessity of drawing fair and just boundaries. I've long thought that legislative Democrats that year put parochial, and often petty concerns about protecting a handful of incumbents ahead of attempting to create a number of new, genuinely competitive districts. It was, I am convinced, a turning point for Democratic fortunes in the legislature.
By 1994 legislators and voters had enough of the partisan games and endless lawsuits and largely took lawmakers out of the line drawing business. The current system is far from perfect and it could be reasonably and responsibly tweaked, but the adjustments require a fine tool, not the partisan sledgehammer Harris, House Speaker Scott Bedke and no doubt most GOP lawmakers came to Boise to pass this year.
Some Republicans have complained that redrawing legislative and congressional district boundaries should be left to lawmakers who, as former GOP Representative Tom Loertscher said in 2018, "know our districts better than anyone else." Exactly. And that's the problem.
Legislators know enough to add a precinct to their districts that would be helpful in the next election or shed one that might be problematic. They know enough to carve up an opponent's district or to draw boundaries to punish a foe. It's not unheard of to intentionally put two incumbents in the same district, particularly if those incumbents are in a party opposite yours.
Only two things are really necessary for Idaho's citizen-based reapportionment system to work properly. The first is to have the Republicans and Democrats who appoint the members of the commission select people who will genuinely act in good faith, without a partisan agenda. At a time when political cynicism oozes out of every voter, when elected officials have about as much credibility as aluminum siding salesmen, treating the business of reapportionment as a task above petty partisanship could not be more important.
Appoint good, honest, fair-minded people to do the job and let them draw lines that respect voters more than protect politicians.
The second requirement is for Idaho legislators to go find some other long dead bad idea and waste their time on that. Reapportionment isn't broken, but only legislators can break it.
—–0—–