My weekly column in the Lewiston, Idaho Tribune
———-
In his famous Harper's magazine essay about American politics, the Pulitzer Prize winning historian Richard Hofstadter wrote, "one of the most valuable things about history is that it teaches us how things do not happen."
Hofstadter wrote about what he called "the paranoid style of American politics" in 1964 when another Republican, Barry Goldwater, was threatening to destroy his party with fanciful notions about winning nuclear wars and staging for adoring crowds at his rallies what the journalist Richard Rovere called "great carnivals of white supremacy."
The politically paranoid, the eminent historian argued, is a victim of his own lack of awareness where eversion to facts and his circumstances and experiences "deprive him of exposure to events that might enlighten him – and in any case he resists enlightenment."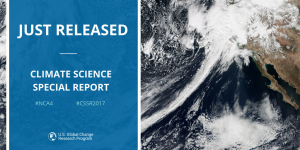 A week ago, while many Americans were still in a turkey and dressing induced post-Thanksgiving food coma (or perhaps shopping at a big box store on Black Friday), thirteen agencies of the federal government released a 1,600-page report on our changing climate. The first sentence of the report stated its most important conclusion in clear and unusually stark terms: "Earth's climate is now changing faster than at any point in the history of modern civilization, primarily as a result of human activities."
The report was purposely released on a holiday Friday in order to minimize the exposure of facts like this one: "Since the first National Climate Assessment was released (in 2000), the United States has endured 16 of the 17 warmest years on record, and the latest assessment paints a bleak picture of the future."
Donald Trump, of course, dismissed the careful, factual work of scientists in four words. "I don't believe it," he said.
Such idiocy led Trevor Noah, the host of television's Comedy Central, to ask: "How can one man possess all the stupidity of mankind. It's like they edited his genes to give him superhuman stupidity."
In order to agree with our scientist-in-chief you need to consciously discount the serious, detailed, principled work of 300 government and university scientists who drew upon the work of thousands of other scientists who have studied, analyzed and calculated what is happening to the climate.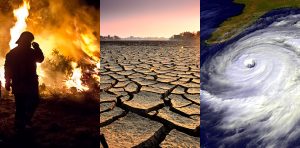 This group includes two scientists I talked with this week who wrote chapters of the National Climate Assessment dealing with the Pacific Northwest. Dr. Philip Mote is the director of the Oregon Climate Change Research Institute and a professor in the College of Earth, Ocean, and Atmospheric Sciences at Oregon State University. He earned his PhD at the University of Washington. Another author is Dr. Scott Lowe, the associate dean of the graduate school at Boise State University, a professor of environmental studies and a researcher on resource economics. He has his PhD from the University of California at Santa Barbara.
Both scientists told me a key takeaway from the new climate report – the fourth such effort since 2000 – is that Pacific Northwest resource industries, including particularly timber, agricultural and fisheries, best get ready for an unpredictable new era of climate variability. More variability in stream flows. More low snowpack conditions. Reduction in irrigation capability. More variability in growing seasons.
Here are just three sentences from the report on climate impacts in the Northwest:
"Forests in the interior Northwest are changing rapidly because of increasing wildfireand insect and disease damage,attributed largely to a changing climate."
"Impacts to the quality and quantity of forage will also likely impact farmers' economic viability as they may need to buy additional feed or wait longer for their livestock to put on weight, which affects the total price they receive per animal."
"Decreases in low- and mid-elevation snowpack and accompanying decreases in summer streamflow are projected to impact snow- and water-based recreation, such as downhill and cross-country skiing, snowmobiling, boating, rafting, and fishing."
Dr. Mote, the Oregon State climate scientist, told me he recently went back and looked at the first national climate assessment. He described that effort as "educated speculation," but now he says we know in detail what has been happening to the climate over the last two decades and the conclusions to be drawn are more certain and more emphatic. As the report says, "observational evidence does not support any credible natural explanations" for the amount of warming taking place "instead, the evidence consistently points to human activities, especially emissions of greenhouse or heat-trapping gases, as the dominant cause."
Trump is not alone, of course, in his denial of evidence starring us in the face. And while the dismissal of decades of science is an insult to the very notion of truth – Dr. Mote calls it a "raw denial of knowledge" – it is also flat out dangerous. The scientists stress that we do have the ability to adapt and deal with much of the impact of climate change, but denying the existence of what is happening – the dangerous part – paralyzes any meaningful action and the longer we wait the less likely we'll adapt well or at all.
Dr. Lowe, the Boise State researcher, says the rejection of fact-based science is frequently tied up with weird notions of a conspiracy theory that university and government scientists "have an agenda that is funded by someone." This is pure nonsense. They are scientists seeking facts. They volunteer there expertise.
In the Trump Era the very idea of truth is taking a beating, "truth decay" one recent report called it. Meanwhile, debasing expertise and knowledge gets us an administration stocked with a knucklehead who blames California wildfires on "radical environmentalists" and puts the president's son-in-law, a trust fund baby and New York real estate developer, in charge of crafting a Middle East peace plan. Such folks not only seek no enlightenment, they are supremely comfortable in their ignorance.
As you shift the competing "truth" about climate change ask yourself a simple question. Who are you going to believe: a bunch of scientists who have been studying an issue for decades and have their work double and triple checked by other scientists or a guy who bankrupted his casino?
—0—