My weekly column from the Lewiston (Idaho) Tribune…
————-
A few takeaways from the midterms.
The State of the Union – Divided: The red gets redder and the blue gets bluer. The story of the 2018 midterms will be that the deep political divisions in the dysfunctional American family are destined to only get deeper. Rural America – and rural Idaho – will continue to embrace a remarkably divisive president who articulated a blatant election appeal based on racial and class division that would have made George Wallace blush.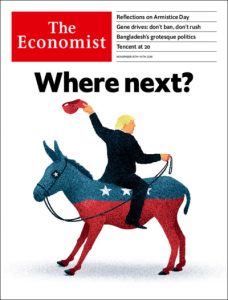 There is something for every partisan to celebrate in the results. Democrats won control of the House of Representatives and repaired some of the party's recent damage in the Midwest. Democratic control of the House will return some level of balance, if not bipartisanship to national politics.
Republicans can celebrate the pick up of several Senate seats and as a result Senate Republicans will be even less inclined, which is saying something, to police administration actions. Given the abject lack of Senate oversight of Trump's foreign policy – Idaho's Jim Risch will now likely become an even more shameless Trump apologist as chairman of the Foreign Relations Committee – look for the president's incoherent approach to the world to become more erratic, less predictable and more dangerous.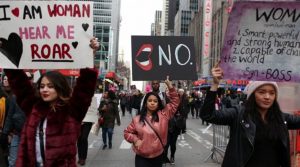 Bottom line: Trump has further consolidated his control over a Republican Party that now completely owns his ballooning deficits, serial lying, a fear and loathing message of racial division, disdain for the most basic level of ethics and in the pre-election period a politicization of the American military to deal with the phony issue of "a caravan." Nationally the party has shredded any appeal to suburban women, younger voters and those with a college education. Republican voters actually re-elected two members of the House who are under indictment and in Nevada a dead man who owned a brothel – he was regularly referred to as "a pimp" – won a legislative seat. This is not the party of Ronald Reagan.
Meanwhile, national Democrats have room to grow a diverse coalition but lack a natural leader, which may be the best news of all from the election for Donald J. Trump.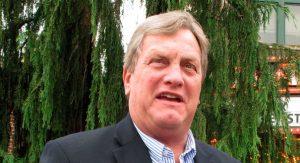 Simpson's New World: Second District Congressman Mike Simpson is adjusting to a new reality. Simpson, the most accomplished Idaho federal lawmaker since the late Senator Jim McClure, is a legislator of uncommon common sense. Now he will have to learn new tricks as an appropriator in the minority. Had Republicans held on to the House of Representatives Simpson had an outside shot at chairing the immensely important House Appropriations Committee. At least Simpson would have remained chairman of an important subcommittee. Now, the man who brings home the bacon of the Idaho National Lab and regularly attends to home state issues will need to apply all his skill as a bipartisan dealmaker to continue to wield influence in a Democratic House. Simpson will, on the surface at least, have a better relationship with new First District Congressman Russ Fulcher than he ever had with Raul Labrador. While Fulcher will join a House were his natural allies – Labrador's old "Freedom Caucus" – will be severely neutered and where he will labor in the least attractive position in politics: a rookie in the minority.
Idaho Republicans Sweep – Again: Governor-elect Brad Little ran a textbook Idaho GOP campaign and crushed Paulette Jordan, his badly overmatched Democratic opponent. Jordan, with little to show for her vacuous, personality driven campaign other than a scrapbook of national news clippings, did nothing to change the trajectory of Idaho's beleaguered Democratic Party. In fact, Jordan may have retarded the progress of rebuilding a credible minority by blowing what might have been a historic opportunity. Republicans have held the governor's office for 24 years and, as prolonged, uncontested power inevitably does, they have accumulated a litany of scandals minor and otherwise. Little was effectively running for Butch Otter's fourth term – never an advantageous political position – and in a year when women candidates nationally made major strides. But Jordan never put together a real campaign, never had a compelling message and never succeeded in turning the lanky rancher's white Stetson black.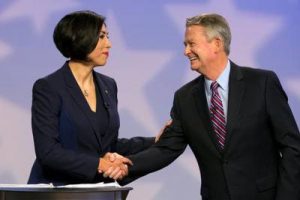 Jordan's anemic showing did no favors for the one statewide Democrat, superintendent of public instruction candidate Cindy Wilson, who seemed to have a path to victory and even in defeat ran well ahead of the top of the Democratic ticket. Rural red Idaho did Wilson in, however, while old-time Democrats, now mostly gone and forgotten, in places like Nez Perce and Shoshone Counties are spinning in their graves.
The scope of Little's win – and Jordan's loss – is illustrated by one telling election statistic. Jordan spent more than a million dollars to collect 38% of the vote, barely three percent more than the Democrat who put his name on the ballot for attorney general, never campaigned and didn't raise a cent.
A tiny, but not insignificant glimmer of hope for Idaho's Democrats was a pick up of a handful of legislative seats, a growing lock on the state's largest county – Democrats won two county commission seats in Ada County for the first time since 1976 – and the example of the ballot proposition that expanded Medicaid coverage to some of the most vulnerable Idahoans. That well-funded, well-organized, well-messaged campaign was both historic and provides a template for a future statewide Democrat. If any Idaho Democrat ever wins again it will happen because that candidate has a compelling message that reaches voters where they live and builds a new organization at the grassroots that brings new participants, particularly millennial and Latino voters, into the political process.
If the national GOP's deep problem with suburban women has any, even minor, corollary in Idaho, it is in the Great State of Ada. A young and appealing generation of women office holders now populates the Boise city council and the county commission. The party has to start rebuilding someplace and Ada County is as good as it gets for Idaho Democrats.
—-0—-