"And we've got our soldiers sitting there [in South Korea] watching missiles go up. And you say to yourself, 'Oh, that's interesting.' Now we're protecting Japan because Japan is a natural location for North Korea. So we are protecting them, and you say to yourself, 'Well, what are we getting out of this?'"
Donald J. Trump in an interview with the New York Times
———-
Republicans, particularly those from the traditional post-war internationalist wing of the Grand Old Party, have devoted most of their waking hours over the past seven and a half years to assailing Barack Obama's "fickle" foreign policy.
Obama has been bashed for "leading from behind," for constantly "apologizing" for the United States, for being unwilling to double down on a purely military response to the violence and political turmoil from Egypt to Syria, from Ukraine to Iran.
In this Republican view Obama is a Kenyan socialist update of Neville Chamberlain, the British Prime Minister who redefined the word "appeasement" so that it has become the most damning of all foreign policy epithets.
Then the GOP nominated Donald Trump.
I'm going to posit that never before in the history of modern U.S. politics has one party, a party that has for so long held rock solid views on foreign policy and America's place in the world, so quickly and violently changed direction. The Trumpian "pivot" on foreign policy is now complete and the implications are coming into focus. As usual with Trump there is little doubt or nuance.
The Republican presidential candidate detailed for the New York Times yesterday his belief that as president he would not automatically guarantee 70 years of commitments to European security, would not condemn the massive violations of civil liberties underway in the wake of an attempted coup in Turkey and would remove American military and security commitments from far east allies like Japan and Korea.
And that's just for openers.
The only thing missing from Trump's capture of the Republican Party were seconding speeches of his nomination from anti-democratic thugs like Russia's Vladimir Putin and Turkey's Recep Tayyip Erdogan.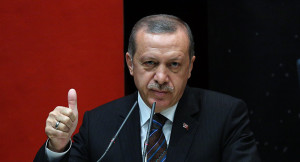 Imagine Barack Obama making a statement like Trump made yesterday. Reminded by the Times David E. Sanger that since the attempted coup in Turkey Erdogan "put nearly 50,000 people in jail or suspend them, suspended thousands of teachers, he imprisoned many in the military and the police, he dismissed a lot of the judiciary. Does this worry you? And would you rather deal with a strongman who's also been a strong ally, or with somebody that's got a greater appreciation of civil liberties than Mr. Erdogan has? Would you press him to make sure the rule of law applies?"
Trump's reply: "I think right now when it comes to civil liberties, our country has a lot of problems, and I think it's very hard for us to get involved in other countries when we don't know what we are doing and we can't see straight in our own country. We have tremendous problems when you have policemen being shot in the streets, when you have riots, when you have Ferguson. When you have Baltimore. When you have all of the things that are happening in this country — we have other problems, and I think we have to focus on those problems. When the world looks at how bad the United States is, and then we go and talk about civil liberties, I don't think we're a very good messenger."
Forget the messenger, worry about our own rule of law with such a man in the White House. Worry also about the cognitive dissonance on the new GOP ticket. At the very moment Trump's interview was posted online Republican vice presidential candidate Mike Pence was saying this: "We cannot have four more years of … abandoning our friends. … Donald Trump will … stand with our allies." Right. Got it.
The Reagan doctrine of American Exceptionalism has been reduced in the Age of Trump to: "We're not in a position to be more aggressive. We have to fix our own mess." Apparently fixing "our own mess" will cause Trump to look for inspiration to the dictators he refuses to condemn.
Loyal readers know that I have often voiced my own profound concerns about an American foreign policy based on the constant expansion of U.S. military power or the belief, held by Hillary Clinton among others, that nearly every foreign policy challenge demands a military response, but Trump has gone where no Republican has gone since at least Robert Taft in 1952.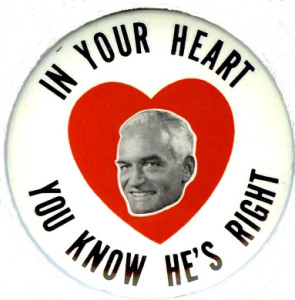 Trump has torn the Republican Party from its post-war moorings, even more so it is now clear than Barry Goldwater did in 1964. His appeal to nativist, know nothingism, his exploitation of fear, his appalling ignorance of our own history and the world's has gone way beyond anything we have seen since McCarthy in the early 1950's. This is truly the GOP's McCarthy Moment and no time, as Edward R. Murrow said of the Republican's earlier demagogue, for citizens – particularly Republicans – who oppose his nonsense to remain silent.
It is now truly time to contemplate the consequences of turning over the country's foreign policy – the nuclear codes for crying out loud – to a man who shouldn't be trusted with the key to the executive washroom. The country has been here before. Barry Goldwater's campaign in 1964 proclaimed that "In your heart you know he is right," but American voters saw through Goldwater's bizarre suggestions that battlefield nuclear weapons might be used in Southeast Asia, that a nuclear warhead was "just another weapon" and that North Vietnam could be reduced to a "mud puddle" if only we had the right leadership.
The last time a radical hijacked the GOP, American voters agreed with Democrats who countered Goldwater's slogan with their own: "In your guts you know he's nuts."
Donald J. Trump is certifiably "nuts."