"A pandemic is a lot like a forest fire," then-President George W. Bush said in 2005. "If caught early it might be extinguished with limited damage. If allowed to smolder, undetected, it can grow to an inferno that can spread quickly beyond our ability to control it."
The forest fire analogy is something Idahoans should understand in the midst of a global pandemic. You act quickly, decisively in a coordinated fashion and you can often prevent a conflagration. By contrast the slow, stumbling, inconsistent, often fact-free response of the Trump Administration to the coronavirus will go down in history as a governmental and leadership failure on a vast scale. The damage in death and economic destruction will take months – perhaps years – to assess, but this much is clear from the vast public record: the COVID-19 pandemic has been more poorly handled in the United States than in any other developed country.
At least America is first at something.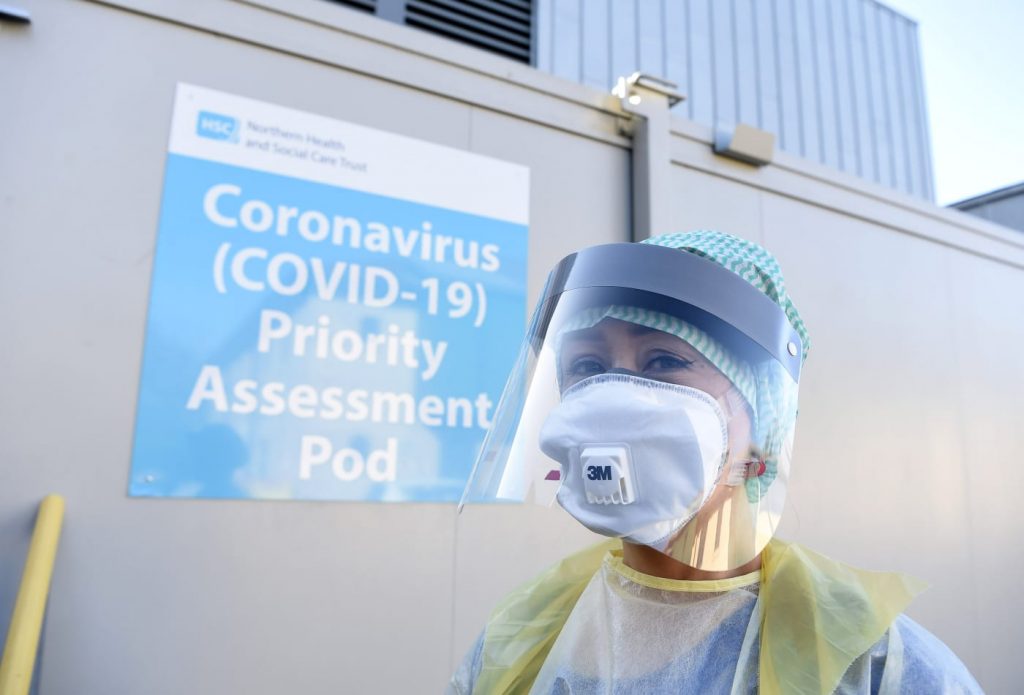 The Trump Administration's response to the pandemic has been slow, uncoordinated and chaotic – CNBC photo
But, it's not enough to put this failure exclusively at the door of the Oval Office, as appropriate as that seems. The governmental failure is broader and more systemic and elected officials, Idaho's Senator James Risch for instance, should reckon with their own grossly inadequate leadership at a time of national and international crisis.
Reviewing what is already on the public record is damning and in a just political world Risch should pay a steep price at the ballot box. That the junior senator rarely attempts to explain his actions – or lack thereof – and merely drafts in the wake of a failed president is a testament to how broken American and Idaho politics have become.
Here's the record.
On January 24, Risch issued his first statement about "a new strain of coronavirus" that had been detected in China. He said he had, as chairman of the Foreign Relations Committee, "convened a briefing from the U.S. government's leading global health experts tracking this novel coronavirus, now identified as 2019-nCoV."
We knew a lot about the virus, Risch assured us, and public health officials effectively had things well in hand.
"The CDC has testing capabilities," Risch said, and "is actively working to develop an effective vaccine, and screening has been introduced at five U.S. airports. While that screening will not be 100% effective in capturing every traveler who may be infected – especially if they are not sick upon arrival – we know that public awareness and diligence is key to infection control."
Very little of that statement has stood the test of time, let alone the test of two months.
Testing on a scale widespread enough to be really effective in halting the spread of the disease remains woefully inadequate. The Idaho Statesman reported on April 2 that the limited coronavirus tests that were being conducted in Idaho were still being sent out of state to regional labs, "leading to delays of 10 or more days." The newspaper said there were reports "of people waiting more than 14 days for test results. The delay in testing is happening even to health care workers, which could lead to the spread of the disease even faster."
The vaccine Risch mentioned is likely more than a year away and screening at airports, as Science magazine has shown, "will likely do very little to slow the spread of the virus as it's exceedingly rare for screeners to intercept infected travelers." Even more to the point hundreds of thousands of travelers entered the country from China after the existence of the virus was widely known and screening was completely inadequate. "I was surprised at how lax the whole process was," one traveler from Beijing who arrived on March 10 told the New York Times.
In a January 24 Twitter message about his private briefing Risch parroted Donald Trump who, it must be remembered, said back when he should have know better that it would just "go away." "We learned that the risk of transmission within the U.S. is low at present," Risch said. "I will continue to work closely with U.S. officials to ensure Americans are protected."
Right. 
Actually, after that January statement Risch went quiet about the coronavirus even while alarms were raised inside the White House and while others with a less visible soapbox took action.
On February 5, Connecticut Senator Chris Murphy, a member of Risch's Foreign Relations Committee, sounded genuine concern. Murphy said he had "just left the Administration briefing on Coronavirus. Bottom line: they aren't taking this seriously enough. Notably, no request for ANY emergency funding, which is a big mistake. Local health systems need supplies, training, screening staff etc. And they need it now."
By contrast Risch made no public comment, but rather Tweeted on the same day Murphy was expressing concern about the administration's lackluster response that, "Today, I will vote to acquit President Trump."
That statement came a day after the senator praised Trump's State of the Union speech as "an instant classic." That wasn't true, either.
Since the beginning of the Trump Administration, Risch – who also sits on the Intelligence Committee, which we know from public records received coronavirus briefings from the CIA and others in January – has boasted of his access to the White House and his close working relationship with the president, but it appears he did nothing to sound the alarm about a deadly pandemic.
Risch might have used his committee positions, particularly Foreign Relations, to publicly press for more information about how China – and Russia, too – was manipulating information about the virus, but he didn't.
Risch did issue a statement with several other Republicans on March 18 demanding that China "work with, not against, the international community and international organizations to ensure we all have accurate information needed to better constrain this global threat." But he dropped it.
It's worth noting that on January 24, when Risch made his initial statement about the virus, Trump was praising China lavishly. "The United States greatly appreciates their efforts and transparency," Trump said. "It will all work out well. In particular, on behalf of the American People, I want to thank President Xi!"
It's impossible to believe that Risch, privy to intelligence reports and briefings, didn't know that Trump's statement was fabulist nonsense. But he said nothing before his eventual pivot to redirect criticism from Trump to China. The Risch public pivot, by the way, came only two days after Trump's own pivot – that was March 16 – when he begin to refer to the "China virus."
New York University journalism professor and media critic Jay Rosen said recently that, "the battle to keep Americans from understanding what went on January to April is going to be one of the biggest propaganda and freedom of information fights in modern US history. Precisely because so much of it is public, confusion must be made massive."
That statement goes a long way toward describing Trump's "light at the end of the tunnel" afternoon "briefings" on the crisis, sessions that typically amount to little more than a platform for the president to attack reporters, peddle disinformation and praise his own performance.
Risch, too, is lending a hand with the spread of this propaganda. Refusing to question anything about Trump's awful and deadly response, Risch suggested recently to Chuck Malloy, a friendly columnist for Idaho Politics Weekly, that complaints from Republican and Democratic governors, from public health officials and frontline health care workers were really nothing more than politics.
"He's going to be criticized by people who don't like him or hate him," Risch said of the president, "and complimented by people who think he's doing a pretty decent job." In other words, no introspection from the one guy in Idaho who had a front run seat to see all this play out from the beginning. No desire to hold anyone accountable, even after Trump used the cover of the pandemic to fire the inspector general of the intelligence agencies and then remove the IG designated to oversee how pandemic relief funds are spent.
"It's all useless," Risch told Malloy of the criticism. "What's going on is bigger than one man." Well, he's right about that. The challenge to honestly, effectively lead at such a time is way too big for Donald Trump. And clearly vastly beyond the senator's capabilities, as well.
—–0—–
Additional reading: