My political education began in the 1970s in South Dakota. An uncle served in the legislature as a Republican and later a top aide to a GOP governor. I remember sitting in the gallery watching him on the floor of the state senate. I started to pay attention and politics and government became real when as a senior in college I had a marvelous opportunity to cover the state legislature for radio stations all over South Dakota.
In those days South Dakota, a state with a long history of Republican dominance, was nevertheless competitive for Democrats, rather like Idaho in that same period. There was a healthy two-party system, the occasional Democrat in the governor's office and Democrats could and did win national office. A guy name McGovern represented South Dakota for 18 years in the Senate.
But for the last 15 years or so, certainly since Tom Daschle lost a Senate seat in 2004, South Dakota has been, like Idaho, as red as red can be. My old state hasn't had a Democratic governor since 1978. Today the statehouse in Pierre (pronounced Peer, by the way) is the domain of a Sarah Palin-like Republican by the name of Kristi Noem. She may not be the worst governor in the country, but she is certainly in the running.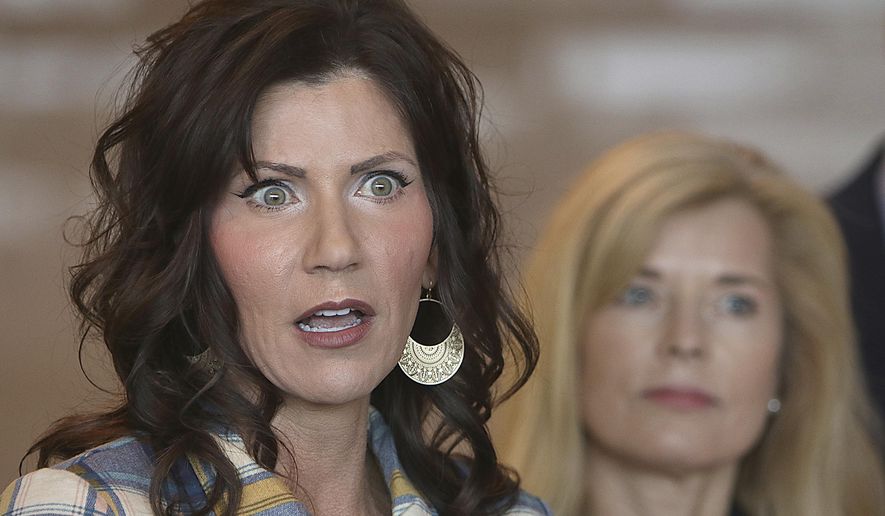 South Dakota governor Kristi Noem has refused to issue a stay at home order, but she did go on Glenn Beck's show this week to complain about a "fear culture" created by reporting about COVID-19
Noem has steadfastly refused to join 43 other governors and order a statewide stay at home order. Mayors in the state's larger cities – a relative term in South Dakota – have taken their own faltering steps to control the COVID-19 pandemic, while front line health care workers have implored their conservative governor to take broader, more effective action beyond her proclamation of a statewide day of prayer.
The governor's most recent response was to announce that South Dakota would be a test case for the unproven hydroxychloroquine drug that the president has repeatedly cited, without a shred of scientific evidence, as a potential game changer. Noem said she had "an exciting day" after talking to Trump son-in-law and White House advisor Jared Kushner about the drug.
At the same time news broke that the massive Smithfield Foods pork processing plant near Sioux Falls had shut down indefinitely after more than 50 workers tested positive for the coronavirus. The area is now one of the major virus hotspots in the country.
Of course, Donald Trump and the know nothing base of the Republican Party, supplemented by a few neo-John Birchers like the gun toting crank Ammon Bundy and anti-government, but well-funded libertarians like the Idaho Freedom Foundation, is where to look to understand the origins of nonsense from Republicans like the South Dakota governor.
As the one-time Republican and 2016 independent presidential candidate Evan McMullin said this week: "We're now witnessing just how devastatingly destructive it can be when even one of our two major parties turns its back on truth and expertise in favor of blind loyalty to one man," which brings us to Idaho.
I began wondering last week why Governor Brad Little was receiving so little support from fellow Republicans as he has struggled to respond to the pandemic. No senior Republican had taken to the airwaves or social media to lend him support or push back against the party's primitive wing exemplified by Lt. Governor Janice McGeachin and Rep. Heather Scott who have actively resisted the governor's leadership.
Scott actually called the governor, a fellow Republican, a "little Hitler" and equated his stay at home order to the Holocaust. Such idiocy literally seeps out of the seams of these Republican know nothings.
Little's actions, including a statewide stay at home order, too slowly implemented and lacking sufficient statewide coordination, have nonetheless certainly saved lives and slowed, but far from stopped the spread of the virus. Little's decision this week to extend his order for another two weeks was prudent and almost certainly lifesaving.
The answer to why he's received so little support from fellow Republicans came earlier this week. Those leaders clearly stated their priority and it was not to follow the science and the common sense of how this pandemic is eventually brought to heel.
"Somewhere between a blanket stay-at-home order and a complete disregard for the reality of this virus's potential, there lies an acceptable level of risk," House Speaker Scott Bedke wrote last weekend to the governor. "A statewide, one-size-fits-all approach," Bedke blithely said, "is ill-advised."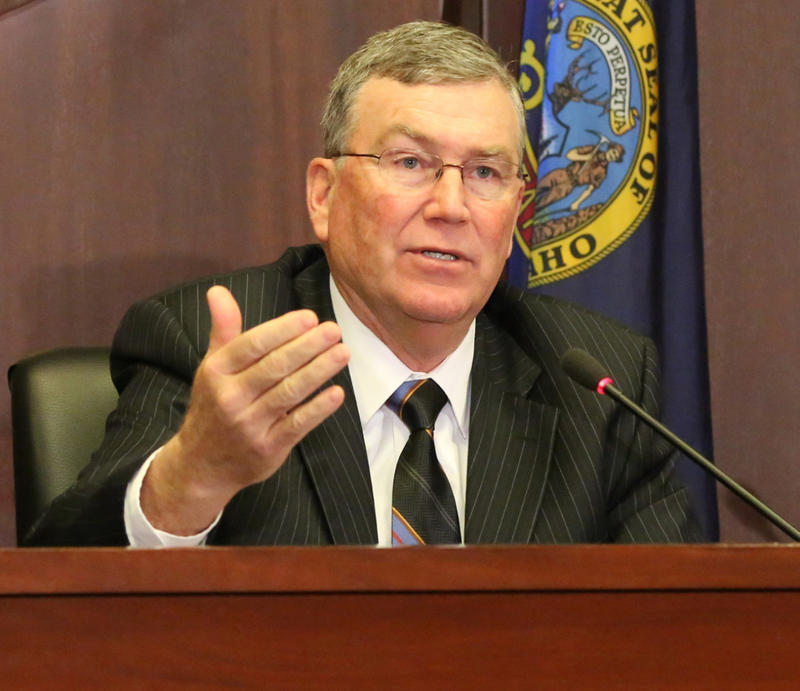 The Republican Speaker of the Idaho House of Representatives, Scott Bedke, has pressed his fellow Republican to ignore the science and effectively put lives at risk to benefit the economy.
Boise State public radio reporter James Dawson broke the story of Bedke's letter, a stunning example of the kind of anti-science, anti-expertise thinking that dominates the party from bottom to top.
Meanwhile, that reliable reactionary Raul Labrador, Little's primary opponent in 2018 and now the GOP party chairman, weighed in with the very Trumpian "The cure cannot be worse than the disease!" Labrador's statement – perhaps his first blast at a repeat run against Little – was headlined: Reopen Idaho.
What Bedke, Labrador and the many they speak for in their party were really saying is damn the public health, what's a few more deaths, many more sick people and an almost certain second wave of disease when the Idaho economy is at stake?
Bedke and Labrador don't say, of course, how many more deaths might be acceptable, but perhaps they should have consulted with the family of the woman in her 60s who died this week at a Boise nursing home where 14 care givers are believed to have the disease. Or maybe they could have spoken with doctors in Lewiston or Blaine County who continue to be frustrated by a lack of sufficient testing, which remains the key to slowly resuming a more normal life. The harsh reality remains that there will be nothing approaching "normal" until the disease is truly at bay and that is going to take time, perhaps a long time.
But instead of the very real life and death implications of the need for more physical distancing, while more testing and contract tracing of those who have been exposed is put in place, Bedke threatened Little with retribution during the next legislative session for the governor's handling of "legislative powers."
There once was a time when willful Republican ignorance about science and wholesale disregard for facts were abstract matters of theoretical concern. Now they have become minute-by-minute threats to life and health.
As this is written U.S. deaths from the virus are headed for 30,000 and higher, the largest number in the world, and we should remember the immortal words of House Majority Caucus Chair Megan Blanksma, the Hammett Republican who bizarrely sits on the board of her local health district. "This is not the plague. Stop treating it like it is," Blanksma said a month ago. "Wash your hands and act like responsible humans."
The key words there are "responsible humans," a concept beyond many in today's Republican Party.
—–0—–
Further reading:
Marie Helweg-Larsen is a Professor of Psychology at Dickinson College. She had a very interesting piece the other day about "optimism bias," the notion that only bad things happen to others. She writes: "But in the case of a pandemic like the coronavirus, if you don't think something bad is going to happen to you, you might not bother changing your behaviors. That's exactly what a U.S. study on the coronavirus found."
Montana Press Monthly is a great publication in the Big Sky state. I wrote a piece for the most recent issue called "The Montana Roots of The Plot Against America," the current HBO series based on the Philip Roth novel. I think the real story is just as wild as Roth's popular "historical" fiction. (Note: you'll be able to see the entire contents of the Monthly and its worth the look, including great photos illustrating my article and a piece about the 1918 influenza pandemic in Montana.
Jane Mayer's New Yorker piece on Senate Majority Leader Mitch McConnell is a great example of really good, in-depth political reporting. It's not a spoiler to observe that Mayer's reporting confirms that McConnell is, as another political observer has noted, "the gravedigger of American democracy."
After you read the McConnell piece. Do yourself a favor and read this – "The Tiger Kings of Basketball: Three stories about the NBA, billionaires, and the pandemic." And, yes, the two stories are connected.
And…I don't know about you but I've tried at least once a day during these crazy days to reach out to an old friend or acquaintance that I haven't talked with for too long. In keeping with that idea Daphne Merkin has a lovely piece in the New York Review about using the phone to stay connected. What an old fashioned idea. She writes: "To think of Bell Telephone's long-ago slogan 'Reach out and touch someone you love' is to be reminded anew of the primacy the phone once enjoyed."
Stay in touch…