Maybe the best guide to understanding what has become of the modern conservative movement is a modest little book first published in 1951.
The enduring truths contained in Eric Hoffer's book The True Believer: Thoughts on the Nature of Mass Movements simply could not be more relevant to America in the 21st Century.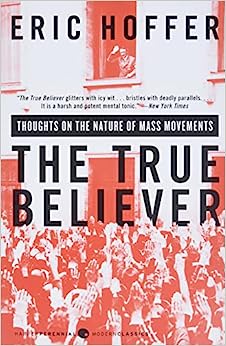 Dwight Eisenhower thought enough of Hoffer's book to recommend it to a wounded World War II veteran. Ronald Reagan presented Hoffer with the Presidential Medal of Freedom in 1983.
Eric Hoffer, a San Francisco longshoreman by trade and a self-taught philosopher by avocation, might never have predicted that the United States, a country built on at least the language of fidelity to the rule of law, would one day find itself in a situation where one political party would fundamentally reject the authority and seriousness of the American legal system in service to a demagogue.
In fairness, Hoffer likely couldn't imagine a Donald Trump, at least not 70 years ago amid fresh memories of what authoritarians are capable of. Yet here we are in a nation dominated by the blind idolization of the "base" of the Republican Party for a former president who is about to become the subject of serial indictments ranging from hush money payments to a porn actress to illegally secreting away classified documents to inciting a deadly insurrection.
Long before Trump, Hoffer was able to understand the characteristics of mass movements that propelled charismatic, manipulative, law ignoring charlatans to power in the Europe of the 1920s and 1930s.
The leader of a mass movement, Hoffer wrote, need not be particularly smart or a person of character. In fact, those attributes matter hardly at all. The "main requirements," for the mass leader, Hoffer concluded, involve "audacity and a joy in defiance, an iron will, a fanatical conviction that he is in possession of the one and only truth." The successful leader of a mass movement has "a capacity for passionate hatred; contempt for the present; a cunning estimate of human nature; a delight in symbols (spectacles and ceremonials); (and) unbounded brazenness which finds expression in a disregard of consistency and fairness."
Most of all the leader depends on – this should conjure up an image of a Kevin McCarthy, a Steve Bannon or any number of other alleged modern conservatives who have sold their souls and backbones to a twice impeached serial liar – "a capacity for winning and holding the upmost loyalty of the group of able lieutenants."
These true believing enablers typically display a certain level of competence – McCarthy found a way to get elected Speaker of the House, after all – and are certainly aware of what they have bought into, but awareness matters little compared to a willingness, as Hoffer put it, to "submit wholly to the will of the leader."
And what does submitting "wholly" to the leader look like as we gaze on America's mass movement?
Republican after Republican this week, members of the party that once considered nothing more important than "law and order," attacked the prosecutor who appears poise to indict the movement's leader on the advice of a grand jury comprised of American citizens. Meanwhile, the man at the center of this unprecedented situation did what all leaders of mass movements do, he called forth his followers, urging them to protest – for him.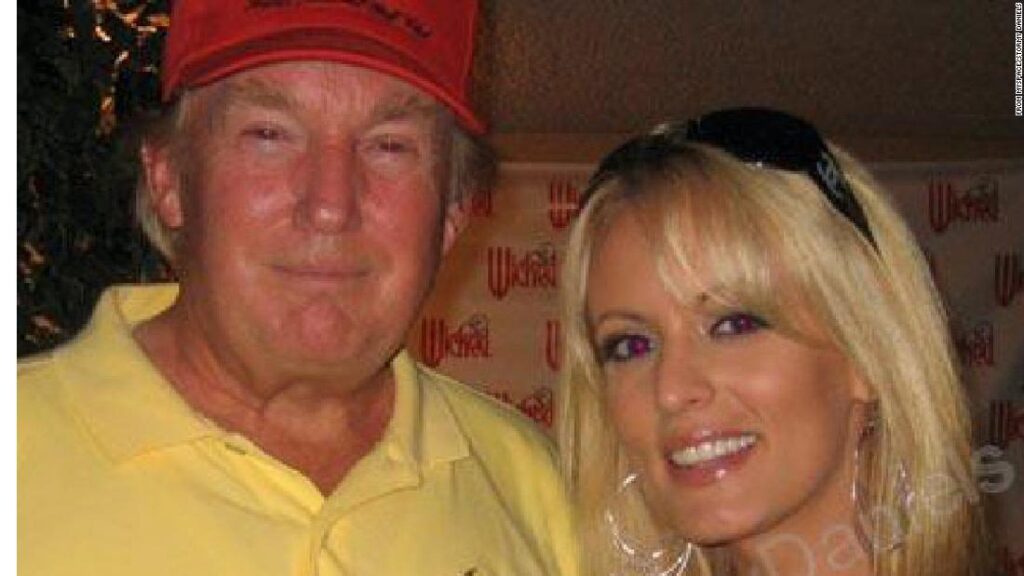 McCarthy, who long ago wholly submitted, called the pending Trump indictment "pure politics" and attacked the elected prosecutor for being soft on crime, a curious position for one defending a person alleged to have committed a crime. Other former "law and order" conservatives attacked Manhattan District Attorney Alvin Bragg, a Black man, calling him a "George Soros-backed" prosecutor, a nifty twofer insult that involves both race and anti-Semitism.
A credible reaction from any elected official to the potential indictment of a prominent political figure would be to say that "the justice system needs to be allowed to work." They could have said the burden of proof is with the prosecution and we need to wait and see what a judge and jury make of the allegations. They could have said "no comment." Instead, they submitted wholly to the will of the leader who has devoted most of his adult life to skirting the kind of legal and ethical accountability the rest of us take for granted.
There is nothing – nothing – normal about this Republican reaction to alleged criminal conduct by a former officeholder. To normalize attacks on prosecutors is to expand dangerously Trump's own assaults on judges, law enforcement officials and courts, the bedrock American institutions that still remain, thankfully, as a shaky bulwark against his life-long penchant for criminality.
I find myself in agreement with The Atlantic's Tom Nichols, a Never Trump conservative, who wrote this week that the porn star hush money case is certainly not the strongest case Trump will confront, but if Al Capone, a man like the former president guilty of many crimes, could be brought down by a tax evasion conviction, why not pursue the illegality of Trump's payoffs to Stormy Daniels?
Yet the bigger issue, as Nichols noted, is that Trump again summoned the mob to do his bidding.
Trump "is warning all of us, point-blank," Nichols wrote, "that he will violate the law if he wants to, and if you don't like it, you can take it up with the mob that he can summon at will. This is pure authoritarianism, the flex of a would-be American caudillo who is betting that our fear of his goons is greater than our commitment to the rule of law. Once someone like Trump issues that kind of challenge, it doesn't matter if the indictment is for murder, campaign-finance violations, or mopery with intent to gawk: The issue is whether our legal institutions can be bullied into paralysis."
That's what is happening here, the wholesale submission of a class of political leaders to the leader of a mass movement who, at his whim, can call on his followers to help him break the law.
How pervasive is the threat? How deep does this rot go? Look no farther than at the conduct of the senior most Republican on the once prestigious Senate Foreign Relations Committee, the junior senator from Idaho, James E. Risch.
When the Trump mob attacked the U.S. Capitol on January 6, 2021 at the call of the president of the United States, an event utterly unprecedented in all of American history, and resulting – so far – in charges against more than a thousand rioters and the convictions of more than 400, Risch's very private hideaway office in the Capitol was trashed by the mob.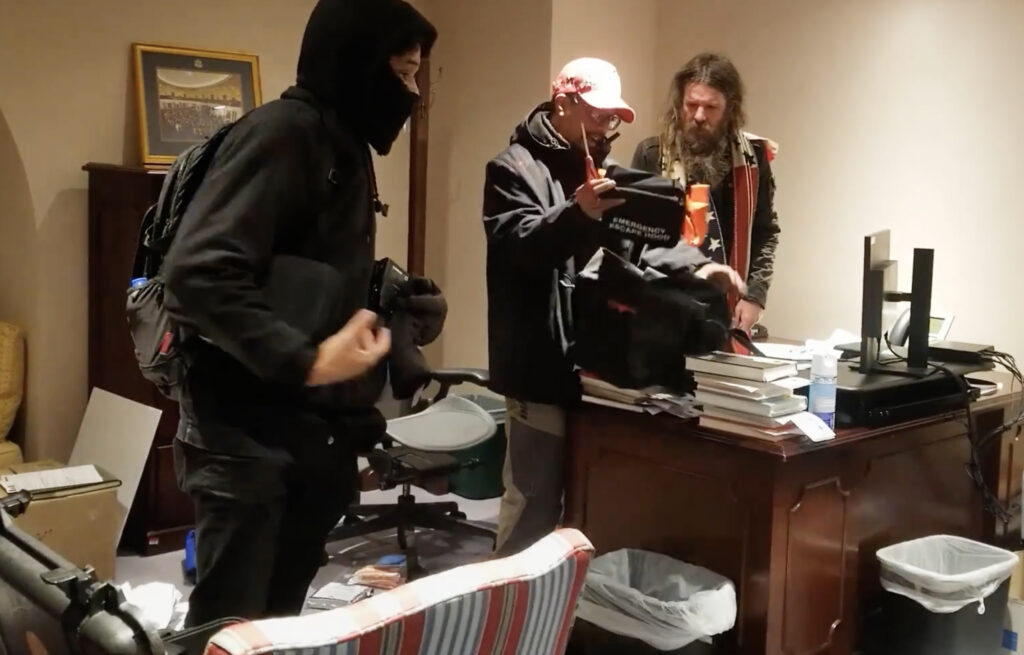 The video of the ransacking, as broadcast by NBC, "shows a rioter – who has pleaded guilty to driving a stun gun into a police officer's neck, nearly killing him – smashing out Risch's window overlooking the Washington Monument and the national mall in an attempt to let more rioters into the building. Additional video … shows Risch's trashed desk, including what looks like a framed campaign image bearing his last name."
NBC noted that the leader of our mass movement is very popular in Risch's home state, making it therefore necessary for the senator to wholly submit to the will of the leader. Risch, of course, said nothing at the time about the rioters in his office. He said nothing when confronted with the video evidence.
The true believing senator did what followers do, even when they themselves are the victims of evil. He stayed loyal. He submitted.
—–0—–
Additional Reads:
'Gone With the Wind': The Explosive Lost Scenes
A fascinating deep dive into the making of the iconic film.
"Undeniably, the movie represented historic achievements in storytelling, color cinematography, production design, acting, orchestration, multidimensional portrayals of female characters, costuming, and efforts to fight the censorship of the Hays Code. But it is equally true that the film had a destructive global influence on the entire world's understanding of race relations. A French critic once hailed Gone With the Wind as 'the Sistine Chapel of Movies,' while director John Ridley more recently summarized it as 'a film that, when it is not ignoring the horrors of slavery, pauses only to perpetuate some of the most painful stereotypes of people of color.'"
________________
Partygate: Johnson should reject any finding that he broke rules, say allies
Former British PM Boris Johnson – no relation – is in a pickle, again, for allegedly misleading Parliament during Covid lockdown. And Bois acting a lot like someone you probably remember.
"Boris Johnson should refuse to accept the outcome of the privileges committee investigation if it concludes that he intentionally misled the Commons over the Partygate scandal, his allies have said.
"Some of the former prime minister's supporters believe he should reject the cross-party group's findings if they decide, based on written evidence and a fractious three-and-a-half-hour evidence session on Wednesday, that he broke strict parliamentary rules.
__________________
Is Ron DeSantis the Republican Michael Dukakis?
I always try to read Bill Scher.
"Democrats once nominated a governor for president, fresh off a landslide re-election, who claimed he could do for the country what he did for his home state. His name was Michael Dukakis, and he dubbed his state's 1980s economic turnaround the 'Massachusetts Miracle.' However, in the 1980s, a right-leaning electorate did not embrace liberal Massachusetts values."
Good piece from The Washington Monthly:
____________________
Have a good week … and keep reading – everything.