"[Putin] became convinced that the Western strategy was a regime change vis-à-vis Russia. That's his distorted version of history. He believes that even Gorbachev may have been an unwitting dupe of the West, but he certainly sees Yeltsin, and the whole experience of Russia in the '90s, as a period in which the West took advantage of Russia and tried to marginalize it as a global power." 
        Alexander Vershbow, U.S. Ambassador to Moscow from 2001-2005 under President George W. Bush
—————
We now know – again – that agents of Russian military intelligence hacked emails of 2016 Democratic presidential candidate Hillary Clinton's campaign, her staff, the Democratic National Committee and the party's congressional campaign committee. Special Counsel Robert Mueller acting, we should remember as a result of a "true bill" approved by a grand jury made up of everyday ordinary Americans, indicted twelve Russian military operatives for those crimes last week.
The indictment alleges "a detailed and wide-ranging conspiracy to hack into the computers" of the aforementioned political people and organizations "and to reveal information in order to interfere with the 2016 U.S. presidential election."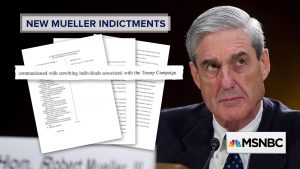 The latest Mueller indictment also indicates that Wikileaks conspired with the Russians to inject the stolen material into the American political bloodstream and that more than one American citizen communicated with the foreign agents during the 2016 campaign.
As they say just before the commercial break: stay tuned we will be back with more.
————
   "I would call it the rigged witch hunt, after watching some of the little clips. … I think that really hurts our country, and it really hurts our relationship with Russia."
– President Trump's after being briefed on the indictments of Russian military operatives.
———–
Despite the president's many and fervent denials, I have always believed that someone in the Trump campaign orbit "colluded" with these Russians in order to maximize the timing and impact of the release of the stolen Democratic documents. The Trump campaign motive is pretty obvious. They wanted to win. They wanted to win so badly they were willing to countenance widespread foreign interference in an American presidential election. We don't know this for sure, yet, but the Mueller indictment last week is clearly beginning to connect a lot of dots.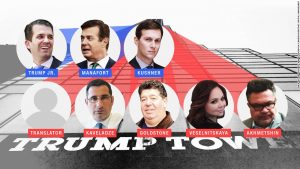 There are, of course, other plausible explanations for why a campaign would get caught up in this kind of sleazy, illegal, borderline treasonous activity. Maybe the Russians really do have some incriminating information on Donald Trump. Maybe he and his family are in hock up to their eyeballs to Russian banks and oligarchs close to Putin. Maybe a naïve Donald Trump, Jr. just got played when he took the now infamous Trump Tower meeting with Russian operatives during the campaign. Any one of these explanations has the ring of truth. Perhaps they all ring in unison.
People still wonder why the smart guys around Richard Nixon, not to mention Nixon himself, thought they needed to break in to the Watergate offices of the Democratic National Committee in 1972. Nixon was going to win re-election against any conceivable Democratic opponent that year, but still he (perhaps) authorized the break in and certainly sanctioned the subsequent cover up. People have long done stupid things in pursuit of political power.
But, while Mueller continues his careful, even scholarly pursuit of the truth in the Trump-Russia matter, it would be wise for Americans – those appalled by what we already know as well as those Trump fans who are still unbelieving that this is as serious as it is – to ponder another question. What did Vladimir Putin want from this Russian meddling with American democracy? What is his game? Why did he authorize this? The Mueller indictment makes clear the Russians, perhaps with American assistance, committed a crime. They clearly had the means and opportunity, but what was the motive?
What Putin Wants….
Here are some educated guesses as to the "why" on the Russian side.
First, Putin, like all dictators, has one overriding objective: he wants to stay in power. One can imagine that he has loved the international attention lavished on the latest news of Russian cyber espionage designed to stir discord in the American body politic. The image provided by the revelations is one of power and that image fits like a glove with Putin's overarching objective: be seen as powerful to stay in power.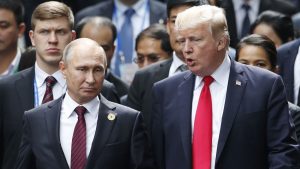 In a particularly perceptive piece in The Atlantic earlier this year, journalist Julia Ioffe recounted a fascinating story of how Putin has created the illusion of success – the U.S. hacking operation helps with this – out of the shambles that is the Russian economy and culture.
Ioffe wrote that, "A businessman who is high up in Putin's United Russia party said over an espresso at a Moscow café: 'You're telling me that everything in Russia works as poorly as it does, except our hackers? Rosneft'—the state-owned oil giant—'doesn't work well. Our health-care system doesn't work well. Our education system doesn't work well. And here, all of a sudden, are our hackers, and they're amazing?'"
Ioffe writes that many Russians think the political hacking effort was, at least initially, less a strategic operation than a spontaneous reaction to the release of the Panama Papers, the trove of secret banking information that detailed, among other things, how Putin and his cronies have become very rich while looting the Russian economy. And remember Putin is, if he's anything, an opportunistic, improvisational former KGB spy.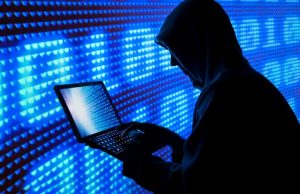 It doesn't take the imagination of John Le Carre to see that once Russian military intelligence hacked all that political information and the release of the information deepened divides in the Democratic Party, divides that Trump skillfully capitalized on, and the opportunistic improviser doubled down. Why not implicate the Trump campaign, his son and campaign manager, in the scheme?
After all, if the Kremlin really does have something incriminating on an American political candidate, that leverage is only useful if the compromised candidate actually wins. Therefore they had to do all they could to make sure he won.
And while we're at it let's change the Republican platform in a way that benefits Putin's war in Ukraine. Let's arrange back channels with Michael Flynn and others to influence American foreign policy even before Trump becomes president. Let's push the envelope in Syria. And, of course, let's deny it all and laugh at the silly Americans who think a bunch of Russians care enough to stir such a big pot.
Putin's second objective – remember he is a Soviet era KGB operative – is the age old Russian goal of being taken seriously, to be a world power, to influence events. To him the glory days of his country were when Russia had an empire, a sphere of influence in eastern and southern Europe which insured any Russian leader was a man of worldwide importance and, above all, power.
How best to recreate the old Soviet Empire with its Marxist ideology replaced by oligarchy? How to do what Stalin and every successive Soviet and Russian leader failed to do – divide and conquer the democratic West? Annex Crimea. Destabilize Ukraine. Threaten the Baltic republics. All were once part of the empire and they can be again.
Putin's tactics aimed at the western alliance were transparently obvious. Sow discord in Britain and weaken the European Union by messing with the Brexit referendum. The same types of anti-immigrant, pro-nationalist agenda that powered Trump to the White House works for the fringe of the political right in the UK, in France, in Austria, in Italy. Putin, often funding such movements, has fanned those flames.
He must be surprised at how completely this strategy has prevailed in the United States. A recent Pew study found that 25 percent of Republican voters now have a favorable opinion of Putin, up from just 11 percent in 2015. A political party that once defined itself by its full-throated support for NATO and its embrace of world trade, a party that would have relegated to the dustbin of history a preening, ignorant con man like its current leader now cheers his every move, including a private meeting with Putin.
Pause for a moment to consider the events of the past week. The president of the United States, having already imposed punitive tariffs on most of our most faithful allies, publicly insults the German chancellor, ironically for being a captive of Russia, a charge on its face that is ludicrous. That performance roils the NATO summit. Then he verbally assaults the British prime minister, rattling the oldest, most enduring American foreign policy relationship. Then on the domestic front twelve Russian spies are indicted for interference with an American election – the president says nothing at all about this development in his Twitter account and dismisses the seriousness in other comments. Meanwhile, he heads to Helsinki to meet with the man who benefits most by this chaos, this assault on the western alliance.
And what does Putin get? Precisely the optics he wants back home.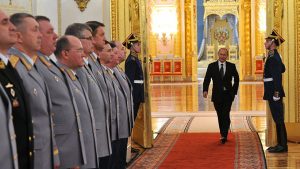 "The mere fact of the meeting, followed by a joint press conference with the American President, will be a demonstration of power for Putin," writes Masha Gessen in The New Yorker. "He needs to deliver nothing else. If, however, he is also able to nudge Trump toward a verbal acknowledgment of the legitimacy of Russia's interests in its old sphere of influence—something that Putin will almost certainly bring up in conversation, making Trump likely to parrot an attitude he instinctively understands—Russians will perceive it as Putin restoring Russia's superpower status. Putin may also suggest a deal whereby the United States pulls out of Syria. Being able to make such an announcement would make Trump feel like the dealmaker he longs to be. To Russians, it would look like they had won the war. If any deal happens, though, it will be merely an accidental substantive bonus attached to a performance designed to be empty."
Putin's game is to preserve his power at home and extend it abroad. He controls, with the firmness of a secret police thug, all the Russian levers of power – the courts, the press, the economy. He is the master manipulator of Russian opinion. For most Russians the economy is a shambles and daily life a constant struggle, but Russian nationalism is a powerful thing. Putin is the symbol of that nationalism and he is poised, with the help of a profoundly flawed American president, to stand astride the globe as the powerful man of history he longs to be.
————
          "You know what? Putin's fine. He's fine. We're all fine. We're people."
Donald Trump recently during a rally in Great Falls, Montana.
———–
How did we get here? Why have so many once wise Republican politicians, foreign policy experts and Russian skeptics allowed Donald Trump to let Vladimir Putin win? The mere fact that a Republican president and the party that now slavishly follows him have so warmly embraced such a thuggish dictator is Trump's greatest con and Putin's greatest win.
Russian strongmen once based foreign policy on the acquisition of "warm water ports" – the last Czar thought his spoils of the Great War would be control of Istanbul – but Putin has something even better now. He is enjoying the spectacle an increasing divided western alliance, relishing an American sponsored trade war that holds the potential to destabilize the western economy; he delights in the rise right wing populism in Europe and U.S., particularly including its racist, nationalist, press hating  authoritarian antecedents. And Putin has, perhaps most importantly, the luxury of having helped put in place a compliant, ignorant American president who revels in the kind of democracy busting behavior that Putin himself has mastered.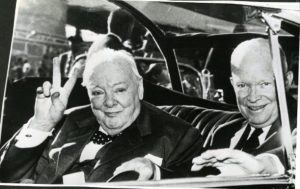 In 1954, Republican Dwight Eisenhower struggled mightily to dissuade British Prime Minister Winston Churchill from meeting with Russian leaders in the wake of Stalin's death. Ike fearing a "propaganda feast" for the Russians at the expense of the western alliance.  "[We must] throw back the Russian threat and allow civilization, as we have known it, to continue its progress," Eisenhower wrote Churchill. "Unless [we] are successful . . . there will be no history of any kind, as we know it. There will be only a concocted story made up by the Communist conquerors of the world."
The Communists are gone, as are the Eisenhower Republicans. But the motives of Stalin and a succession of Russian dictators, the motives of Vladimir Putin, remain very much with us. It is a truly amazing turn in American politics that a Republican president and the Republican Party are enabling this history-bending occurrence.