"I believe the overwhelming view of the Republican Conference in the Senate is that this nomination should not be filled, this vacancy should not be filled by this lame duck president." 
Senate Majority Leader Mitch McConnell
———
Barack Obama has confounded his political foes by nominating a moderate, consensus-focused, precedent-deferential federal judge to the United States Supreme Court as a replacement for the late Justice Antonin Scalia.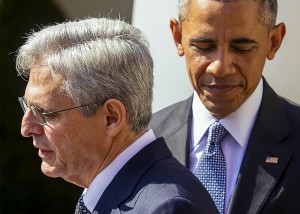 Federal Circuit Court of Appeals Judge Merrick Garland is, in short, just the kind of justice we should want on the Supreme Court. With the Court increasingly becoming just another venue to practice a judicial version of our toxic partisan politics, the Garland nomination should be an antidote that begins to correct the broad impression that judges are just politicians in robes. But Mitch McConnell and Company have ruled that out on the completely specious grounds that Obama's term ended last year and any nomination to the Court is just politics, nothing more or less.
Not that most politicians would waste a split second thinking about what rank partisanship does to public confidence in the judiciary, it is worth nothing that confidence in the Court has been steadily eroding for thirty years according to data from the Pew Center. Those declines correlate nicely – or depressingly – with the partisan battles over the Court that stretch at least back to Robert Bork.
Even Chief Justice John Roberts thinks the confirmation "process is not functioning very well." Call that a judicial understatement.
All the players have the judicial blood of petty partisanship on their hands. Politicizing the Court is one thing Republicans and Democrats agree upon, even as McConnell and his not-so-merry band lead us into a wholly new judicial confirmation cul-de-sac. Both sides have mined the depths of confirmation history to try and find any weak precedent on which to hang the current partisan fight, but the Republican logic – that the "people" need to be heard and no nominee can be considered until after the election – is particularly devoid of intellectual honesty. In his newfound role as a Republican truth-teller, South Carolina Senator Lindsey Graham admitted as much.
"We're setting a precedent here today, the Republicans are, that in the last year — at least of a lame-duck, eight-year term, I would say it's going to be a four-year term — that you're not going to fill a vacancy on the Supreme Court, based on what we're doing here today," Graham said. "That's going to be the new rule."
Even if the late Justice Scalia often ignored precedent that didn't correspond with his personal views of the Constitution, don't count on the U.S. Senate to ignore in the future the path they have now set for themselves in 2016. The Court becomes one more partisan pawn. It wasn't always so, or at least it wasn't always as bad as it is now.
Searching for Precedent…
Republicans have correctly pointed out that it was one hundred years ago when a president of one party had a justice confirmed by a Senate controlled by the other party. The president was Democrat Woodrow Wilson, who actually made two appointments in 1916 – an election year – and both were confirmed. One of those appointments, Louis Brandeis, was controversial. Brandeis was not only the first Jewish member of the Court, but a renowned progressive who had made his career opposing monopoly and the abuses of unregulated capitalism. Still, Brandeis was confirmed by a Republican controlled Senate and went on to become, by most every measure, one of the greatest justices in the history of the Court.
But consider for a moment the other vacancy Wilson filled in 1916, the seat vacated by the resignation of Associate Justice Charles Evans Hughes. Hughes, the former Republican governor of New York, resigned his Supreme Court seat in order to run for president against Wilson, arguably one of the most partisan acts by any member of the Court in our history.
Hughes narrowly lost that election and then slipped easily back into Republican politics. He served as Secretary of State under Presidents Harding and Coolidge, represented Wall Street and big business interests as an attorney – Hughes argued more than 50 cases before the Supreme Court – and might have been a presidential candidate again in 1928 had he not declined citing his age.
As more proof that the current Senate politics of rejection by inaction is truly unprecedented, consider Hughes' return to the Supreme Court in 1930, as the nominee to become chief justice, appointed by the beleaguered President Herbert Hoover. With the catastrophic impacts of the Great Depression settling over the nation, Hoover appeared more and more like a one-term president, even two years before another election and his appointment of a partisan Republican, not to mention a big-time corporate lawyer like Hughes, was too much for a bipartisan group of Senate progressives. They determined to oppose Hughes, perhaps the most broadly qualified person ever appointed to the Court.
Still, there was no talk or apparently even any thought to not bringing Hughes' nomination to a vote and certainly no hint that senators who opposed his appointment would filibuster. Instead the Senate did what the Constitution calls for – it offers advice and consent (or if it doesn't like the nominee for whatever reason it withholds its consent).
Idaho Republican William E. Borah led the Senate opposition to Hughes. While admitting that Hughes was "a man of high standing" and a person "of wide reputation and acknowledge ability," Borah said he was also an unreconstructed big business Republican whose views should not be made "a permanent part of our legal and economic system."
Hughes: An Example of the Sweet Irony of Politics 
Hughes was confirmed and served with great distinction until 1941. When Franklin Roosevelt attempted to "pack" the Supreme Court in 1937, Hughes quietly and effectively made common cause with Borah and others who had once objected to his confirmation. Hughes' role in those pivotal events, as well as his often progressive record on the Court is a prime example of the sweet irony or unintended consequences that can occasionally grace the grubby business of politics, and judicial appointments.
Herbert Hoover made another Court appointment in 1932, a decision made much closer to the election of 1932, which he subsequently lost to Roosevelt. That appointment, suggested by Borah – talk about advice as well as consent – was of Benjamin Cardozo, a brilliant legal mind who Hoover initially thought was too liberal to be considered. Borah convinced the president of Cardozo's merits and he also turned out to be a great justice.
Politics can never – and perhaps should never – be completely removed from any president's decision about any Supreme Court appointment, but for the process to work as the Founders envisioned everyone has to play their role, and play it responsibly. Obama has made a superlative choice in an awful time of political upheaval – a judge of proven ability, upmost integrity, not a political choice, but rather a nominee who would normally be seen as a moderate, consensus-demanding choice. In other words, just the kind of person we need on the Court, The Senate should rush to confirm him.
The political commentator Ezra Klein puts it more starkly. By edging ever closer to the nomination of Donald Trump and playing blatant partisan politics with the Supreme Court, the GOP has adopted a position "that they will refuse to confirm any nominee, no matter how qualified or appealing, until the next president is inaugurated. In practice, what this means is they are hoping to hold the Supreme Court vacancy so it can be filled by … President Donald Trump."
Klein quotes the prescient observations of Congressional scholars Norm Ornstein and Thomas Mann. "The GOP has become an insurgent outlier in American politics," as they wrote in an important 2012 book. "It is ideologically extreme; scornful of compromise; unmoved by conventional understanding of facts, evidence and science; and dismissive of the legitimacy of its political opposition.
"When one party moves this far from the mainstream, it makes it nearly impossible for the political system to deal constructively with the country's challenges."
Those who follow Mitch McConnell blindly into this dark partisan political thicket are playing with fire and one suspects many of them know that. They will live to rue the day they refused even to consider a demonstrably qualified and moderate appointment. They may think it can't get worse. They would be wrong.
The November election will determine the shape of the Supreme Court for a generation or more. Mitch McConnell is betting the country on Donald Trump. Would you bet even a Starbucks latte that Trump has any clue about what a Supreme Court appointee ought to look like?