Because you have the right to have a Secretary of Defense whose views are better aligned with yours on these and other subjects, I believe it is right for me to step down from my position.

–Resignation letter of General James Mattis
————
The resignation of Defense Secretary James Mattis is being seen, as it should be seen, as not merely a senior Cabinet member leaving after losing a policy battle, but rather as a fundamental repudiation of the worldview of an American president.
The resignation has stunned Washington, shaken our allies and, for the first time in the first two years of his chaotic presidency, caused significant numbers of elected Republicans to stir themselves to something approaching opposition.
The push back comes too late however. The damage is done. The work to re-establish American moral and political leadership across the globe will take a generation to repaired, if in fact it can be repaired.
Two things about Mattis's resignation strike me as historically significant.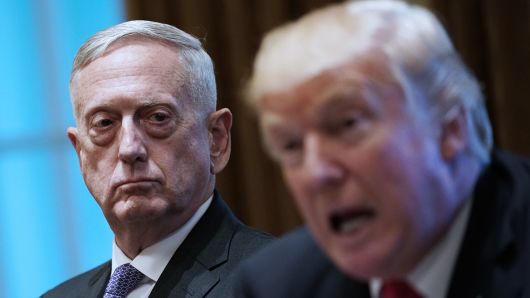 First, a principled resignation from public service has rarely, in fact hardly ever, been a feature of our politics. The only resignation in modern times that comes close to what Secretary Mattis did yesterday was the resignation of then-Secretary of State Cyrus Vance in 1980 in protest of President Jimmy Carter's decision to attempt a rescue of American hostages held in Iran. That resignation, quietly made before, but not publicly announced until after the ill-fated rescue mission failed, was mentioned in the first three graphs of every Vance obituary when he died in 2002.
In other words, Vance, like Mattis, told the president of the United States that he was so fundamentally opposed to an administration's policy that he could no longer serve.
This kind of resignation (as I have noted before) occur with some regularity in other western democracies. Key officials, for example, have been fleeing Theresa May's government – 19 high profile resignations so far this year – over the British prime minister's handling the Brexit mess.
Anthony Eden, then the British foreign secretary, resigned in February 1938 after a dispute with Prime Minister Neville Chamberlain over the best approaching to dealing with Benito Mussolini.
French President Emmanuel Macron has recently suffered the resignations of several high ranking officials in his government, one of whom spoke publicly of Macron's "lack of humanity," a line that could just as well apply to Trump.
I could go on, but you get the idea. Here's hoping that the Mattis resignation over a serious matter of principle – of course, Donald Trump broadly ignored Mattis's advice on a range of issues, not just Syrian policy – begins a new phase in American politics where serious people quit rather than work in an environment that debases their judgment and their sense of patriotism.
As for the argument that Mattis has provided what little adult supervision exists in the Trump Administration, and that he stayed so long in the face of so much chaos in order to protect the military and the world from the worst of Trump, I just don't buy it.
You only provide the kind of supervision Trump needs (but won't accept) if you are effective. In the main, the retired Marine Corps general, was not all that effective when it comes to policy. He opposed the decision to abandon the Iranian nuclear deal. Trump did it anyway. He opposed the senseless and constant Trump criticism of NATO allies. Trump kept it up. He even lost on the question of who should head the Joint Chiefs of Staff when Trump rejected his favored nominee. Even when Trump refused to acknowledge the importance of the late Senator John McCain's career, Mattis publicly did so, but without offering even a mild rebuke to the president's petty meanness.
The best outcome of Mattis's resignation could be that the impact of his action will jar Washington Republicans out of their get-along/go-along Trump stupor and cause, at least some of them, to provide real oversight and substantive checks on the president. Mattis presumably could have stimulated this outcome months ago. Now, at last, he has. Maybe, just maybe, a corner has been turned in the reality TV series that the American presidency has become.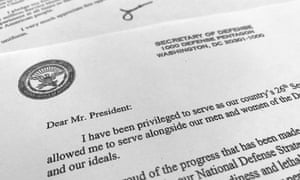 The second takeaway for me from this historic moment is simply the head spinning reality that this foreign policy and national security chaos is taking place in a Republican Administration. The laws of politics and the orientation of our political parties has been turned completely upside down. The same Republicans who lamented, often with good reason, the Obama Administration's approach to foreign and defense policy now own the most dysfunctional presidency in modern times.
Republicans were once able to savage Democrats as "weak" on national security and eager to retreat from world responsibilities. That story line is now completely reversed thanks to Donald Trump.
Republicans who once based a good part of their brand on a clear-eyed reality about America's role in the world have now embraced an ignorant, uninformed foreign policy that has trashed the post-war international order, facilitated the ambitions of China to further dominate the Pacific, emboldened authoritarian dictators, faked its way through North Korean talks about nuclear weapons and made Vladimir Putin the happiest man to occupy the Kremlin in a long, long time.
Historians will write about this Republican collapse of rationality for generations to come, as well as those who aided and abetted it. While I suspect General Mattis will be mostly a footnote to this history, remembered more for his resignation than his accomplishments, one phrase in his resignation letter should be the jumping off point to assess why the GOP has fallen so far so fast. A fundamental reason for this debacle is simply the wholesale abandonment of fact-based competency in favor of the ranting and ignorance of a man totally unfit for the office he holds.
"Trump's decision to withdraw American troops from Syria was made hastily, without consulting his national security team or allies … Trump stunned his Cabinet, lawmakers and much of the world with the move by rejecting the advice of his top aides and agreeing to a withdrawal in a phone call with Turkish President Recep Tayyip Erdogan." 

Associated Press coverage of Trump's Syrian decision.
The key phrase in Mattis's letter came as he explained his belief in the importance of international alliances and the need to oppose the evil intent of what he called "malign actors and strategic competitors." Mattis based his opinion, he said, on insight gained, and this is the key phrase, "over four decades of immersion in these issues."
In their hearts and minds most elected Republicans know that Donald Trump is an ignorant buffoon totally out of his depth. They must pray every night that he will not have to confront a real international crisis.
To allow Trump to get and keep the job he has many Republicans have suspended belief in the importance of "immersion" in reality. The GOP has traded competency and rationality for power and party. And that train wreck continues to unfold in real time.
Many Republicans have been relying on a guy like Jim Mattis to keep this careening locomotive on the tracks. Now, what do they do?