No politician ever admits to caring about a "legacy." It's a lie. They all want to be remembered, to be memorialized in some way for their good works or brave deeds.
They all wonder what the third paragraph of their obituary will say about them. "Senator Snort led the defense of Social Security when the program was under attack." Or "Congressman Cleverton engineered the federal funding for Cleverton Dam, the massive concrete structure that bears his name."
Or will the legacy be, as was the case with Congressman Charles E. Wiggins when he died in March 2000, a fact the gentleman from California would rather we forget?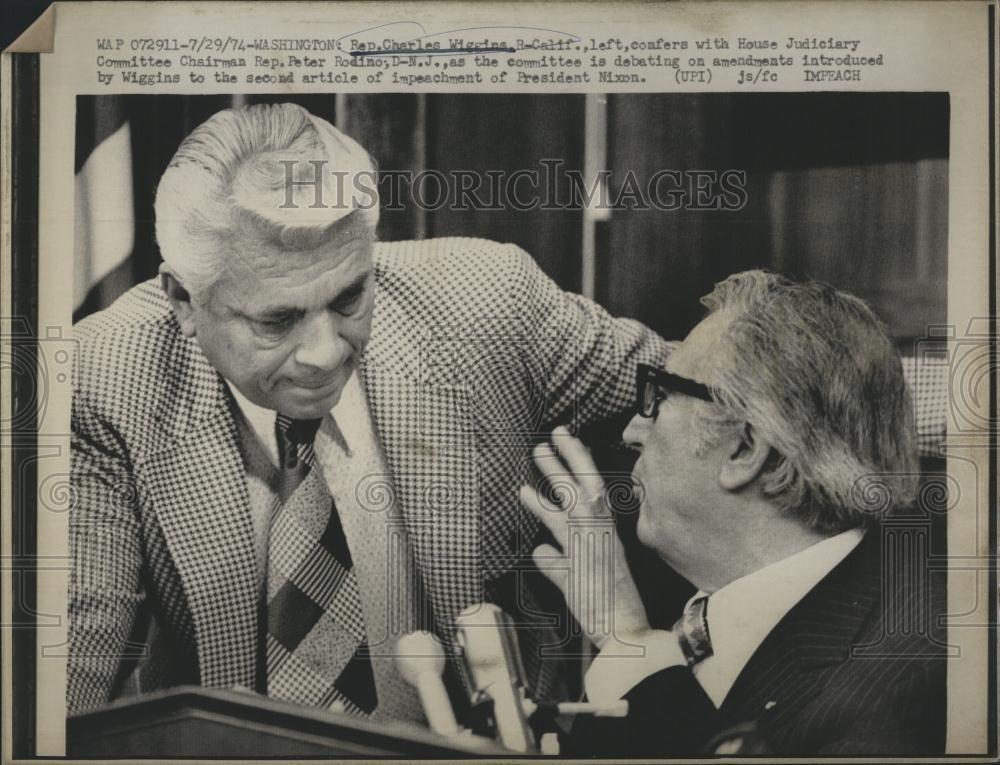 "As a congressman, Mr. Wiggins was considered one of [Richard] Nixon's staunchest defenders. Along with two other members of the House Judiciary Committee, he led the president's defense when the Watergate hearings began in the summer of 1974. The strategy was to construe the evidence as narrowly as possible, require ironclad proof and propose benign explanations of information damaging to the president."
In fairness to the memory of Mr. Wiggins – he later became a federal judge – he eventually decided Nixon was a crook and came around to support his impeachment. As the New York Times reported, in order to change his mind, Wiggins had to hold in his hands the transcript of the taped conversation where Nixon committed to obstructing justice. Wiggins had to read the actual words of presidential betrayal to believe what he had been defending was a lie.
I thought about the long-forgotten Charles Wiggins when earlier this week, a burly, bearded Capitol Police officer, Harry Dunn, recounted for a congressional committee his experiences during the January 6 insurrection. Dunn was graphic, detailed and totally believable. He laid bare the lie that the riot of Donald Trump supporters was no big deal, as well as the fiction that Trump had not helped instigate the attack on American democracy.
"This n—– voted for Joe Biden!" Officer Dunn said a rioter screamed at him, prompting the crowd to turn on him with shouts of "Boo! F—— n—–!"
Later, Dunn implored elected members of Congress to uncover the full extent of Trump's role.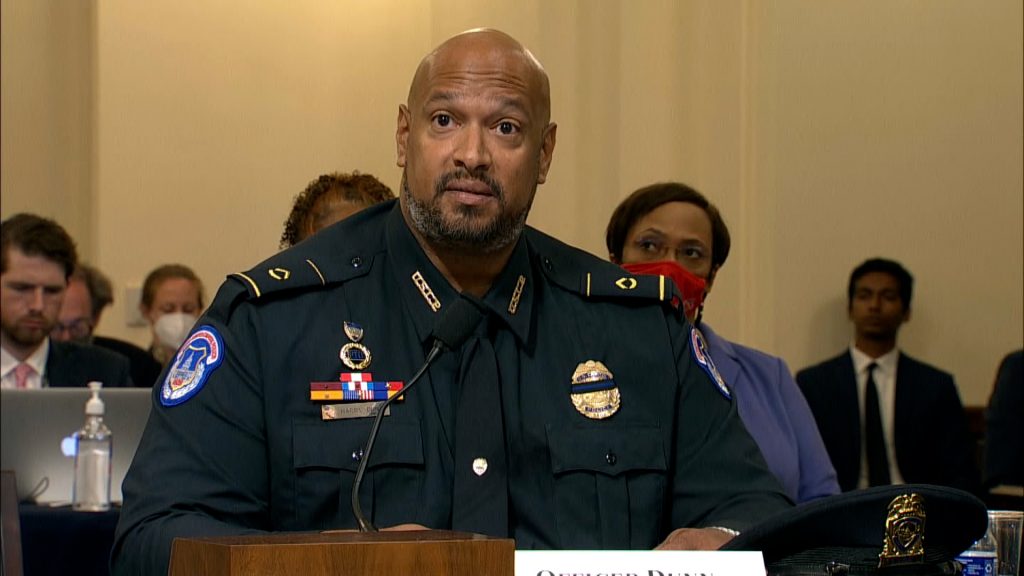 "There was an attack on January 6, and a hit man sent them," the police officer said. "I want you to get to the bottom of that."
Imagine being, as old Charles Wiggins was in 1974, among the last to call into question the actions of a president in the face of such obvious and total depredation of democracy?
Imagine, for example, being Kevin McCarthy, the House minority leader, who first attempted to turn a bipartisan investigation into a clown show and then refused to participate at all. McCarthy couldn't be bothered to watch Officer Dunn's testimony this week. Too busy, perhaps, working on denial of his own role on January 6. We know McCarthy spoke to Trump that day. What do you suppose they talked about?
Or imagine being Montana Congressman Matt Rosendale, an election denier, who expressed his disappointment with the words of fellow Republican Liz Cheney, one of the few Republicans who has called for a reckoning with Trump and his incitement of insurrection. Cheney, who is in perpetual GOP purgatory for her embrace of the truth, urged lawmakers to find out "what happened every minute of that day in the White House" on January 6. "Every phone call, every conversation, every meeting leading up to, during and after the attack."
"We did not have an armed invasion of the Capitol," Rosendale said in response. "We had a breach in security." Try telling that to the Capitol Police officer who testified under oath that one Trump supporter tried to gouge his eye out. Or the story of another officer caught in a scrum where one attacker shouted to get his gun and kill him with it.
Or imagine being Idaho Senator Jim Risch or Wyoming's John Barasso or Montana's Steve Daines, all of whom opposed an independent, bipartisan investigation of January 6, and near as I can tell had no reaction to the officer's testimony this week. What the three senators were outraged about was a letter written more than 30 years ago by a college environmental activist who warned that trees in a proposed Forest Service timber sale had been spiked. Tracy Stone-Manning will be the next director of the Bureau of Land Management, but Risch, a little man in high performance dudgeon, called her a "terrorist" and a "criminal."
Risch and Barasso and Daines have been on this attack line for several weeks but have nothing significant to say about an attack on the Capitol that put their own lives are risk. They have gladly enlarged the January 6 memory hole of denial and deflection; the modern characteristics of what it takes to be a leader of the Republican Party. And let us not let Senator Mike Crapo continue to skate away in silence. Crapo voted against an independent investigation and now sits on his hands awaiting a re-election he demonstrably does not deserve.
What perverse level of political sycophancy, what degree of moral depravity has overtaken these people and dunked them in the turgid water of Trumpland?
The conservative writer Mona Charen has it right. It's easy to blame it all on the far-right "base" of the Republican Party, the deplorables who have hijacked conservatism in fealty to conspiracy, science denial, and the anti-democratic Trump cult. But Charen argues the base excuse is a cop out, pardon the pun.
"We have seen the end of 160 years of the peaceful transfer of power," Charen wrote in The Bulwark. "We've seen the majestic United States Capitol turned into a scene from a dystopian fantasy; an armed mob attempting to subvert an election. They smashed and tortured and caused deaths. They erected a gallows and hunted for the speaker of the House and for the vice president. And Republicans, almost to a man and woman, are excusing, downplaying, or whitewashing what happened. An entire political party has abandoned commitment to the rule of law."
Recall that these Republicans – Risch, Crapo and all the rest – who quake in fear of the authoritarian reality of their party and its leader could have done something. They did nothing. They knew he was a con and a crook, and they were against him before they weren't any more.
"The great tragedy of this moment is not that Trump attempted what he did," Mona Charen said, "but that so few Republicans tried to stop him when it would have made a difference."
That is their legacy. And the country's legacy, too.
—–0—–
Additional Reading:
Some good reads culled this week from many sources…
The Beltway Can't Stop Talking About Him. The Voters He Needs Barely Know Him
When J.D. Vance's book Hillbilly Elegy came out I read it with considerable interest. Many of us were trying to understand the heartland appeal of the former guy. Vance seemed like an interesting guy: up from poverty, stellar education, business success and perhaps a new kind of conservative, a populist with ideas. It also seemed like he totally saw through the Donald Trump appeal and saw the faux business tycoon as a conman.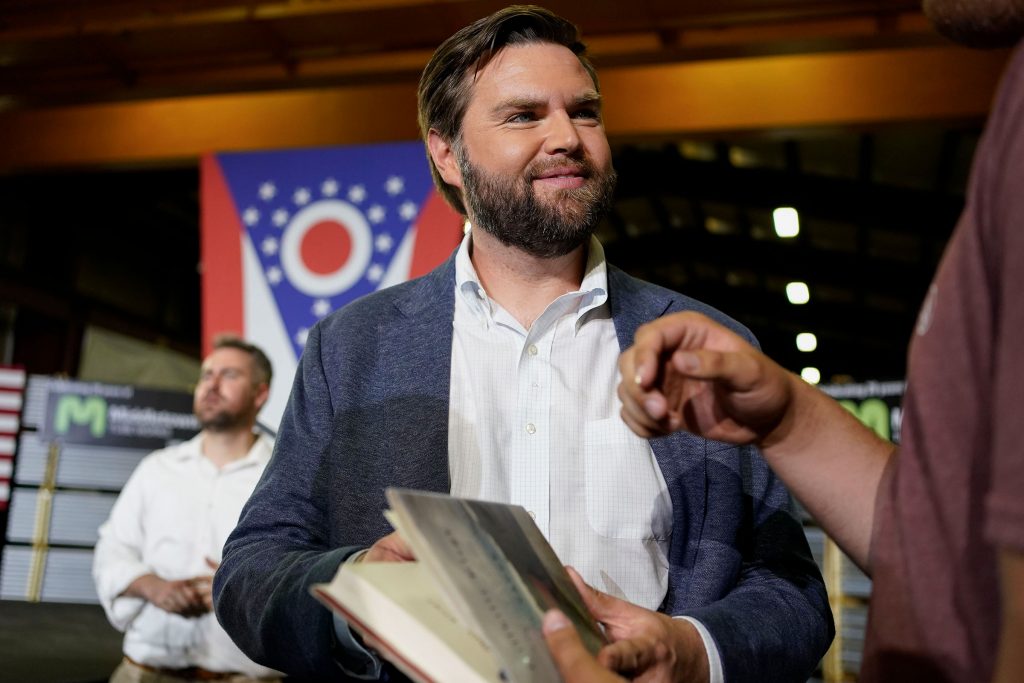 More and more the hype around the book and the follow on movie seems like it was manufactured to promote a political career, which Vance is now trying to launch. He's a candidate for the U.S. Senate. He's taken great pains to cleanse his anti-Trump views.
He may just be another opportunistic rich guy trying to get into elective office. And as this story makes clear, he has some work to do. From Politico.
"Vance has countered with an apology tour of sorts, scrubbing his old tweets and making the case, often and to anyone who will listen, that though he was at first skeptical of Trump himself, he bought into Trump's ideology all along, and has since come around on the man too. Meanwhile, a super PAC supporting Vance, financed by $10 million from the tech investor Peter Thiel, has spent six figures on digital ads that emphasize Vance's criticisms of Democrats and Big Tech, and his Hillbilly Elegy story."
A story from Ohio that may leave you wondering – again – just how it is that the American conservative movement has fallen so far.
---
4 Reasons I'm Wearing a Mask Again
Some confusing, or maybe just unwelcome guidance out of the CDC this week about masks and the effort to control a still raging pandemic.
I think The Atlantic has done remarkable work covering this huge story. Here's reporter Katherine J. Wu on why she's gone back to wearing a mask.
"If I get infected, that affects more than just me. I worry about the strangers I encounter—many of them maskless—whose immune status I don't know. I worry about the youngest kids in my social network, who aren't yet eligible for shots, and the elderly and immunocompromised, whose defenses may be weaker than mine. I worry about the people in my community who have been structurally barred from accessing the vaccines, or who are reluctant to take the shots. My risk of getting COVID-19 is low. Theirs is very much not."
Get the shot. Wear a mask indoors. Be smart. Be safe. Read the full story here:
---
ARE YOU ALLOWED TO CRITICIZE SIMONE BILES?: A DECISION TREE
The satirical site McSweeney's has created a decision tree in response to the criticism of Simone Biles, the sensational gymnast who decided to end her participation in the Olympics. An, yes, I know there are big issues here about the rights of athletes, mental health, social media, etc.
This cuts through all that…funny.
---
Thanks for reading. Stay in touch.