"The textbook definition of a racist comment." 
     Speaker Paul Ryan on criticism of Judge Gonzalo P. Curiel 
——–
How did it come to be that the party of Lincoln is about to nominate an openly racist billionaire to be its presidential candidate, a candidate so toxic to the party's need to broaden its appeal to African-American and Latino voters that those efforts could well be set back by a generation or more?
The answer to that simple question is deeply entwined with the complicated history of the party's evolution over the last 60 years. The modern Republican Party has made a series of pivotal decisions over those decades – policies, decisions designed to capture short-term political advantage, decisions about candidates, even Supreme Court appointments – that have systematically communicated to its older, white, angrier base voters that racism, or at least racial intolerance, is acceptable.
As America has changed, become more diverse and more tolerant in many ways, one major political party's base voters cling to attitudes and beliefs that are no more and, in many respects, should never have been. Republican leaders have no one to blame but themselves for catering to a slice of the electorate that warmly embraces a racist as their candidate.
From "Dog Whistles" to Overtly Racist Language…
For decades Republicans leaders from Barry Goldwater to George H.W. Bush have often practiced a dangerous kind of politics where racial "dog whistles" stirred up base voters. Trump has dropped the clever, more "politically correct" symbolism and language of "state's rights" and Willie Horton ads in favor of what we might call his "candid" form of racism.
The judge handling the Trump University lawsuit is an Indiana-born American of Mexican heritage, but in the simple, straightforward racism of the Republican candidate for president that disqualifies Judge Gonzalo P. Curiel. Donald Trump "is building a wall," after all, and the judge's Mexican heritage can't possible allow him to be fair. As Paul Ryan says it is textbook racism.
How did this happen, the Republican Party dancing with racism? How did they – how did all of us – get stuck with a racist heading one of the country's two great political parties? The answer begins during the time when Lyndon Johnson was in the White House and Barry Goldwater wanted to get there.
In 1964, a badly divided Republican Party turned for its presidential candidate to an outspoken conservative and a vocal opponent of the historic Civil Right Act that Congress passed that same year. Goldwater's opposition to civil rights legislation put him at the fringe of his own party in 1964. Only six Republicans voted against the Civil Rights Act, while Illinois Republican Senator Everett Dirksen, the Senate minority leader and a very conservative guy on most things, played a pivotal role in pushing the landmark legislation past a Democratic filibuster, a filibuster led by conservative Southern Democrats.
Civil Rights Act of 1964…Crossing a Political Rubicon…
It was a political Rubicon moment. Liberal northern Democrats joined northern Republicans to do what had not been done since the Civil War – pass legislation that finally began to deliver on the reality of full citizenship that African-Americans had been promised in the wake of the Civil War. Goldwater, the GOP candidate for president, stood in opposition and his fierce state's rights stand hurt him at the polls, as black voters moved in droves to the Democrats.
Still, Democrats were hurt as well, with Lyndon Johnson famously predicting that signing the civil rights bill would hand the South to Republicans for a generation. Goldwater won six states in 1964 – his own Arizona, as well as Louisiana, Mississippi, Alabama, Georgia and South Carolina. Prior to 1964, only two Republicans represented the states of the old Confederacy in the United States Senate. Today no Democrat represents the region.
Anyone who thinks racial politics has played no role in that remarkable transformation doesn't know American history. Preserving that political advantage, in effect the most dependable Republican region for generations now, is the real aim of the modern GOP.
Goldwater's loss brought predictions of the end of the Republican Party, which of course did not happen. What did end in 1964 was a growing bipartisan consensus about race in America. After 1964, Democrats increasingly appealed to African-American and other minority voters and Republicans increasingly became the party of older, white, conservatives, particularly in the South.
The GOP "Southern Strategy"…
Richard Nixon, who narrowly lost the White House in 1960 – he got 32% of the black vote against John Kennedy and enjoyed the support of, among others, the baseball legend Jackie Robinson – warned that Goldwater's brand of conservatism was toxic to the party's long-term interests. But, Nixon, always the skillful political adapter, parlayed his own brand of racial politics to a narrow win in 1968.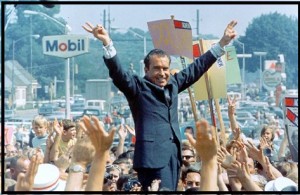 Nixon both benefited from and refined the racial politics of Alabama's segregationist Governor George Wallace. Wallace, running as the candidate of the American Party, won five deep South states in 1968. Nixon won the rest of the old Confederacy stressing "law and order" and appealing to a "silent majority" of mostly white voters tired of hippies, anti-war demonstrations and various efforts to end racial segregation. The Republican "southern strategy" was born.
Only southern Democrats Jimmy Carter in 1980 and Bill Clinton in 1992 broke up the now solid Republican south, but it was Ronald Reagan in 1980 and 1984 who really built on what Goldwater started. Reagan, astutely or cynically or both, opened his 1980 general election campaign in the small Mississippi town where three civil rights workers were brutally murdered in the late spring of 1964. In front of an all-white crowd Reagan pledged his support for state's rights.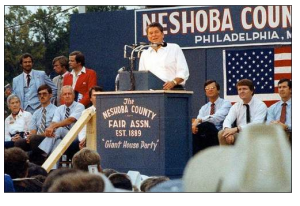 Reagan "was tapping out the code," New York Times columnist Bob Herbert wrote in 2007. "It was understood that when politicians started chirping about 'states' rights' to white people in places like Neshoba County they were saying that when it comes down to you and the blacks, we're with you."
Because any past Republican presidential candidate now looks positively stellar next to the current GOP standard bearer, the one term of George H.W. Bush is being remembered these days as a time of civility and political progress. But it was Bush's 1988 campaign that benefited from the barely concealed racial politics of the infamous Willie Horton ad. The television spot – you can still see it on YouTube – was likely less important than the widespread news coverage it generated and, while Bush's campaign could disclaim any direct involvement with the ad's dog whistle message of black crime against whites, Bush never hesitated to mention Horton and his opponent Michael Dukakis in the same breath. It was nasty, it was racial and its was effective.
The real legacy of the first Bush may ultimately turn out to be the man who is still the only African-American justice on the Supreme Court. When civil rights icon Thurgood Marshall retired from the court in 1991, Bush elevated the little known Clarence Thomas to the high court. Where the liberal Marshall had been a celebrated lawyer, civil rights advocate, court of appeals judge and solicitor general, Bush replaced him with one of the most conservative lawyers to ever served on the court. Bush called Thomas the "most qualified" person he could find for the court, as marvelously inaccurate a statement then as it remains today.
Justice Thomas and the GOP Judicial Agenda…
Thomas has been, however, a completely reliable vote on key elements of the Republican judicial strategy for 25 years, consistently voting to expand the opportunities for money to corrode our politics, gut the Voting Rights Act – a key accomplishment of Thurgood Marshall's generation – and most recently being the lone vote in a remarkable case out of Georgia dealing with a prosecutor's determined efforts to keep black jurors from participating in a murder trial.
Long-time Supreme Court reporter Linda Greenhouse was stunned by Thomas' lone objection to overturning the murder conviction of a black man in Georgia, not because, as she wrote, Thomas harbors "some kind of heightened obligation to take up the cause of black defendants," but because he went so far out of his way to rule in the most prosecutor friendly way. With dogged determination, Thomas also denied what seven other justices acknowledged, that new evidence can call into question an old court decision.
"In an opinion by Chief Justice John G. Roberts Jr., the Supreme Court overturned a 30-year-old murder conviction," Greenhouse wrote, "ruling that racial discrimination infected the selection of the all-white Georgia jury that found a black man guilty of a white woman's murder. The vote was 7 to 1. The dissenter was Justice Thomas. His vote, along with the contorted 15-page opinion that explained it, was one of the most bizarre performances I have witnessed in decades spent observing the Supreme Court."
The remarkable Justice Thomas has become, as Greenhouse says, "the anti-Thurgood Marshall," perversely championing the dismantling of Voting Rights Act and increasing obstacles for minority voters.
Making It More Difficult to Vote…
Following a concerted campaign by conservative Republicans, 17 states this year will have restrictions on voting that did not exist in 2012. As the Brennan Center at the New York University Law School notes, "This is part of a broader movement to curtail voting rights, which began after the 2010 election, when state lawmakers nationwide started introducing hundreds of harsh measures making it harder to vote."
Eight of the states with new voting restrictions are in the solid Republican south. Add in Arizona, where Hispanic voters could amount to more than a quarter of the voting population, and you see a strong pattern of reliably GOP states trying to limit the franchise to non-white voters. And consider this: had the Supreme Court not effectively gutted key provisions of the 1965 Voting Rights Act in the Shelby County v. Holder decision in 2012, few if any of the state level voting restrictions could have gone into effect without the blessing of the Justice Department's Civil Rights Division.
Arguing that the prudent terms of the nearly 50 year old act, a law repeatedly renewed by Congress, should remain in effect in order to help ensure the voting rights of minorities, Justice Ruth Bader Ginsberg wrote, "First, continuance would facilitate completion of the impressive gains thus far made; and second, continuance would guard against back­sliding."
But, of course, "back-sliding" was the political point of gutting the Act and then having Republican legislatures and governors make it harder for minority Americans to vote. Considering the inevitable demographic tide that will continue to change the color of America, fiddling with how we vote is, to be sure, a temporary means to maintain white, conservative, Republican political power. But, rather than acknowledge the demographic change and try to appeal to vast numbers of new voters – precisely what many Republicans argued after Mitt Romney's defeat in 2012 – the GOP has doubled down on its old, old strategy that dates back to 1964.
Donald Trump's improbable presidential campaign – charging Mexicans with "bringing drugs. They're bringing crime. They're rapists," banning all Muslims from entering the country, saying that a distinguished federal judge who was once an aggressive prosecutor of drug dealers couldn't do his job because his parents had been born in Mexico – has finally brought into the harsh sunshine the nastiness and division that has consistently marked the dark side of GOP presidential politics for generations.
Trump is the perfect messenger to illustrate the corrosive power of racial politics. After all his rise to the GOP nomination began with his habitual feeding of the fiction that Barack Obama was foreign born and clearly "not one of us," a pervasive myth stoked by social media and the ultra-right echo chamber. His attacks on a Latino federal judge, his pledge to "build a wall" and deport millions of immigrants intersect perfectly with an entirely new generation of conservative white voters who once would have flocked to Barry Goldwater.
Trump: The Perfect Messenger…
Some elected Republicans, Speaker Ryan for one, understand the fire that threatens to burn down the GOP future, but they seem powerless to really distance themselves from the toxic new leader of their party. Do they do the principled thing and once and for all disavow their racist standard bearer or do they try to condemn what he is, while not condemning his angry, white followers?
The ethical call is easy, but Republicans like Ryan face a hell of a political dilemma particularly when you consider that 65% of Republicans in one new poll don't see Trump's comments about Judge Curiel as racist. But, how could they? They've been conditioned by so many of their leaders to think that way at least since Goldwater's campaign more than 50 years ago.
Goldwater, it should be remembered, was nominated in 1964 after a bruising fight at the Republican convention – the beginning of the end of the "moderate' Republican – and only after the full convention refused to acknowledge the constitutionality of the Civil Rights Act.
The party has been on this course for a long, long time. Trump is the living proof.