NOTE: A reached out this week (thanks social media) to a great reporter I've known and respected for a long time who now lives in northern Italy.
I was hoping Andrea Vogt, an Idaho native, would give me some fodder for my regular column in the Lewiston, Idaho Tribune where she used to work. Andrea writes regularly for European newspapers and has produced documentaries for the BBC.
Andrea's sobering, enlightened essay was more than I expected. I want to share it in full.
———–
Idaho has always been a bit of a paradise oasis, even when all hell breaks loose in the rest of the world: a safe place to live, a reassuring place to come home to, a remote place where it is easy to say with a blithe shrug "well, it won't happen here."
As the coronavirus pandemic swept through northern Italy, where I now live, I watched it encroach – despite a strict lockdown — toward my region, then toward the nearest city and then eventually into my small town.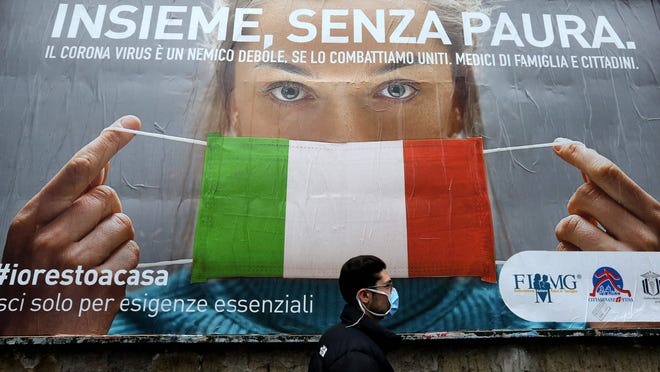 A billboard in northern Italy. The entire county has been under a lock down order since March 9, 2020
I live in one of the most affluent regions of Italy, with quality socialized health care, free and accessible for all – and yes, we pay for it with high taxes, but I have rarely had to wait long for an appointment and never had to worry about how to pay a medical bill. And yet, the severity of pneumonia associated with the coronavirus epidemic severely strained and at times overwhelmed the system here, mostly because so many patients needed serious help all at once and because Italy has such a large population of high-risk elderly and because, in the beginning, they underestimated the swift and deadly contagion.
It is easy to make the mistake of debating the risks of coronavirus, when the more pressing concern is that the pandemic creates a shortage of ICU beds available for other emergencies – things like ATV wrecks, logging mishaps, highway collisions, accidents at home or in the shop, or patients needing surgeries for other reasons, like cancer or hip replacements. Are the region's hospitals and clinics equipped to meet all the needs of its residents as the pandemic bears down?
Idaho has the advantage of being naturally socially distanced by its wide-open spaces and sparse population. But this can also provide a false sense of security – I hope I'm wrong, but I imagine that even though an invisible menace is threatening "everyone else," in Idaho, life is probably chugging along fairly normally: farmers meet for coffee at the diner, loggers line the barstools at the tavern, prayer meetings and family gatherings still seem safe enough and the daily shifts at the factories – Simplot, Micron, Clearwater Paper — hum on, oblivious to the danger facing production lines.
That was the case where I live, too, an initial hesitance to close everything down, for fear of hurting the economy. It was gradual, starting in late February, but now everything (except commercial activities strictly linked to the basic supply chain and essential services) has lurched to a dramatic halt, as the economy (and personal freedoms) began playing second fiddle to desperately saving lives.
In a little town not far from me called Medicina, population 16,000, the virus raced silently through the local senior center, killing its cook, its handyman, the vice president and a whole table of retired card players – this virus tends to kill more men than women. They felt safe. They were healthy and lived in a small town. They didn't see it coming. Now Medicina is mourning their grandpas.

The day that happened I wrote an urgent email home to my mother, sister, aunts and uncles in northern Idaho. Ten days before there was any discussion of social distancing in the U.S., I urged them all to begin canceling appointments and preparing. I wonder about others who may not have such a personal connection to the pandemic, who did not receive a dire warning from someone they know and trust. I worry about the lack of unified, coherent federal response in the United States, which will leave poorer, less resourceful states more vulnerable.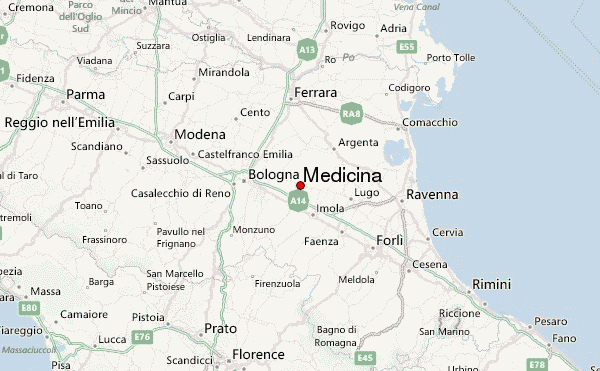 The center of the virus outbreak in northern Italy
Washington State, California and New York perhaps can manage on their own. But can Idaho? Will Kootenai Medical Center in Coeur d'Alene have enough respirators (and what about overflow from Spokane?) How about St. Joseph Regional Medical Center in Lewiston-Clarkston, with its large number of retirees? What about Gritman in Moscow and St. Luke's in Boise?
These are the questions to put to Idaho's elected officials, who were apparently busy passing bills to regulate transgenders as the pandemic approached. They were elected to protect and represent you. Hold their feet to the fire and ask each one of them how prepared the hospital nearest you is, and what is plan B? How many ICU beds, how many respirators, how many masks in the storage closets for the frontline doctors, nurses and staff?
This is going to matter to you much more in 10 days time than whether or not John or Betty changes their gender on their birth certificate. I pray Idahoans don't end up facing the dilemmas unfolding in the rest of the world – but as a remote, self-sufficient, independent place that has always prided itself on preparedness, I hope Idaho's elected officials, at state and local levels, are all pragmatically preparing a vigorous, level-headed plan to address to the real problems they could encounter. When there is a record snowstorm in the forecast, they get the plows ready. Now, they need to make sure Idaho's hospitals are equipped to respond to this very different kind of storm, which they cannot say they didn't see approaching.
In the meantime, fellow Idahoans, my advice is to stay home and stock up, not just on flour and butter for your pantry, but on the goods you might not expect to have needed to cope in the coming weeks: compassion, creativity, patience and strength.
—–0—–
Additional reading:
Absolutely unbelievable story: Reuters reports that beginning in 2017 the Trump Administration slashed by two-third the staff of a CDC facility in China designed to work on epidemics. "The CDC office in Beijing is a shell of its former self," said one of the people, a U.S. official who worked in China at the time of the drawdown.
John Barry wrote the definitive account of the 1918 pandemic called The Great Influenza. His interview with The New Yorker's David Remnick is worth your time. And it's not like this hasn't happened before.
An outstanding young scholar and teacher at the University of Montana, Rob Saldin, has a book coming soon on the NeverTrump Republicans. Rob, who I am happy to call a friend, had a great piece recently in the New York Times. It, too, is on point for this moment in history.