The symmetry is as awful as it was expected.
In the same week that saw the death of the man with the last, most obvious connection to the non-violent protests that eventually ushered in the Civil Rights and Voting Rights Acts in the 1960s, Donald Trump's personal federal police force tear gassed protesting moms in Portland, Oregon.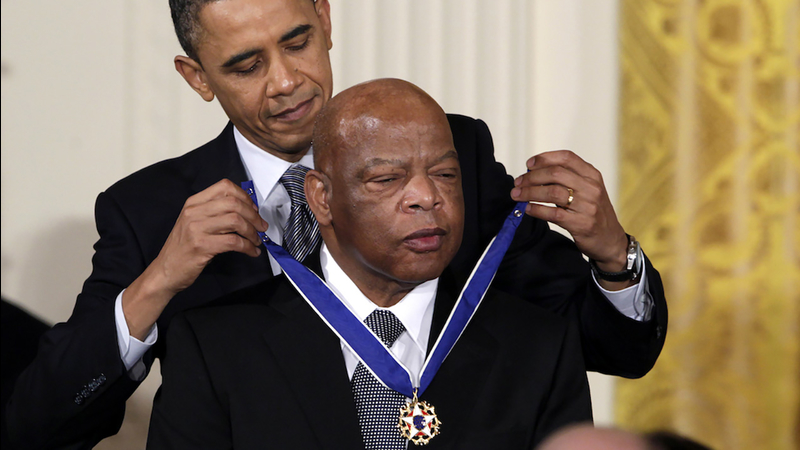 The two events are connected in a tableau that perfectly illustrates the perilous state of American democracy. 
The praise for Georgia Representative John Lewis, the civil rights icon and moral consciousness of the often-amoral American political process, was near universal, with earnest commemoration even from many conservative Republicans. For the most part these Republicans never voted with Lewis, but they knew – at least for public consumption – that his righteousness grounded in his personal commitment to decency and in his religious faith transcended partisanship. 
The fleeting praise rings deeply hollow, however, when you consider that Lewis's great cause – voting rights – has been under persistent attack from Republicans, most distressingly by the conservative majority in the Supreme Court's 2013 decision in the Shelby County case, which gutted key provisions of the historic 1965 Voting Rights Act. That's the law John Lewis was peacefully marching to support when he was nearly beaten to death in Selma, Alabama.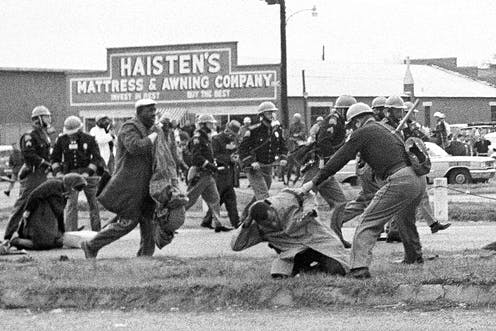 "The decision in Shelby County opened the floodgates to laws restricting voting throughout the United States," according to the Brennan Center for Justice at New York University, which tracks voting rights issues nationally. "The effects were immediate," Brennan says. "Within 24 hours of the ruling, Texas announced that it would implement a strict photo ID law. Two other states, Mississippi and Alabama, also began to enforce photo ID laws that had previously been barred because of federal preclearance." 
When the court's decision was announced, Lewis immediately understood the import. The court, he said, "put a dagger in the very heart of the Voting Rights Act." And the political murder continues.
From Republican-led gerrymandering in Wisconsin and North Carolina to blatantly partisan efforts in Georgia and elsewhere to suppress the vote to Donald Trump's attacks on voting by mail – the type of voting Trump has regularly done himself – the GOP assault on voting has been broad and deep. Moreover, repeated efforts to restore the safeguards removed in the Shelby case have been stonewalled by congressional Republicans, even though most of them, including a unanimous Senate in 2006, supported extending the law for 25 years.
Republicans, now cozy in Trump's party that celebrates white nationalism and increasing authoritarianism, can't abide more Americans voting, or voting more easily. The country's changing demographics spell doom for a party built on aging white voters, so for Republicans clinging to power means making sure Americans outside the GOP demographic are marginalized. And what better way to weaken their commitment to democracy than by making voting harder, or even impossible.
All this will come home to roost in November amid an out of control pandemic when GOP efforts to delegitimize voting by mail and limit polling places collides with a deeply polarized electorate fearful for its health, wealth and security. That Trump explicitly refuses to say he'll accept the election outcome should chill every American spine. The Civil War, after all, began over one section of the nation refusing to accept the outcome of a presidential election in a country where millions were denied not only the vote, but citizenship.
Meanwhile, desperate to redirect the gnat-like attention span of too many Americans away from his disastrous response to the coronavirus pandemic, Donald Trump has sent his own special paramilitary force on to the streets of Portland, Oregon, allegedly to protect federal buildings. Yet, in the incompetent and improvisational way that characterizes the president's every action, the overwhelmingly peaceful anti-racism protests in Portland, now headed nightly by hundreds of women in yellow t-shirts, have only grown amid the federal presence; a presence strongly condemned by local officials.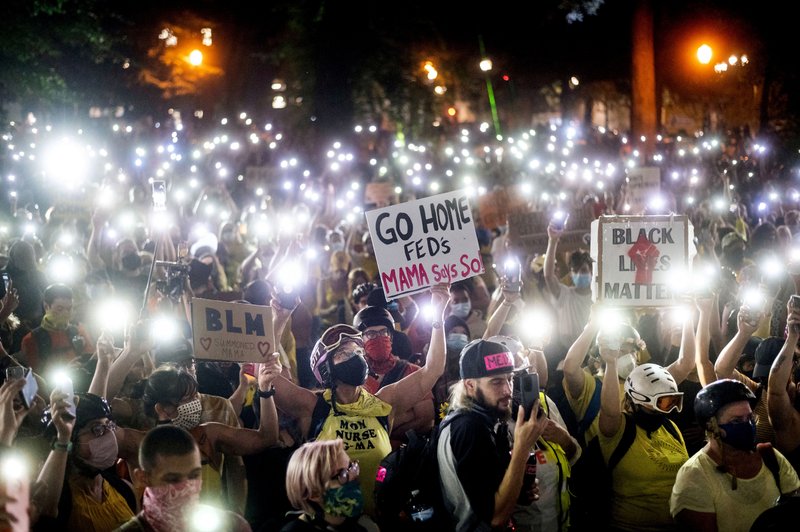 And well it should be condemned. America has no national police force, even if Trump hopes to turn the Department of Homeland Security into one. It is the very definition of un-American to dispatch unidentified federal agents to an American city to spirit protesters off the streets and hustle them away in unmarked vans. This is the nightmare of Pinochet's Chile or Putin's Russia.
And presidents don't unilaterally insert federal agents into communities without the consent and advice of authorities on the ground. As The Atlantic's David Graham wrote recently, "Trump appears to be trying to do something novel in this country: establishing a force like interior ministries in other countries."
One of the few Republicans willing to condemn what Oregon Senator Ron Wyden calls Trump's "jackboot goons" is the first secretary of Homeland Security, former Pennsylvania Governor Tom Ridge. "The department was established to protect America from the ever-present threat of global terrorism," Ridge told a radio interviewer. "It was not established to be the president's personal militia."
I'm old enough to remember when every Republicans would have been appalled by Trump's Portland stunt, which is so far out of the mainstream of what was once considered the conservative understanding of the role of the federal government as to boggle the mind. 
One can almost hear one-time Idaho congresswoman Helen Chenoweth rage against "armed agency officials and helicopters," who she was convinced were violating the Constitution to enforce the Endangered Species Act in the 1990s. Helen was wrong about her "black helicopters," but she did articulate the once widely shared conservative view that turning federal agencies into paramilitary forces was a really bad idea. 
Trump's motives, of course, both for trying to suppress the vote and for staging a photo op in Portland, is to stimulate fear, to stoke division and hope that he can eek out a second term from the outrage smoldering in his shrinking political base. It's a strategy as transparent as his spray on tan and as cynical as his instant pivot to a message that wearing a mask is now OK by him. 
"My question," Oregon's Wyden said this week, "[is] where are the Senate Republicans who preach state rights and freedoms as Trump sends paramilitary forces into cities uninvited and tramples on the Constitution? Are they so cowardly that they too will try to convince the country that 'walls of moms' are threats?" 
Turns out they are cowards, senator. They really are. 
—–0—–
Additional Reading:
Twilight of Democracy
The historian Anne Applebaum has done important work on Putin's Russia and the rise of authoritarian governments around the world. In her new book – Twilight of Democracy – Applebaum assesses the state of American democracy. She's not all that sunny about it. 
"By 2016, some of the arguments of the old Marxist left—their hatred of ordinary, bourgeois politics and their longing for revolutionary change—met and mingled with the Christian right's despair about the future of American democracy. Together, they produced the restorative nostalgic campaign rhetoric of Donald Trump. Two years earlier, Trump had railed against American failure, and called for a solution Trotsky would have appreciated: 'You know what solves [this]? When the economy crashes, when the country goes to total hell and everything is a disaster. Then you'll have . . . riots to go back to where we used to be when we were great.'"
Read the excerpt here.
---
Trump May Not Accept the Election Outcome
Lots of commentary this week about Donald Trump's testy interview with Chris Wallace of Fox News, particularly about the president's refusal to say whether he will accept the results of the November election and the crisis that would surely follow.
The always excellent Jonathan V. Last hits the nail with his piece in The Bulwark.
"The most likely path to a crisis isn't a president who says, 'I understand that I lost by 6 million votes, but I do not like this outcome and will not be leaving.'
"No, the path to crisis is a president who says, 'These results claiming I lost by 6 million votes are illegitimate. The vote was rigged and it was not a fair election. We are going to contest the results with every option available to us and prove that I, in fact, won.'"
Why are Restaurants so Loud
Most of us aren't going out to dinner much these days, but one can hope that will change before too long. Meantime The Atlantic asks and answers a question I keep asking – Why is it so loud in so many restaurants?
"Restaurant critics and journalists have long complained about noisy restaurants (San Francisco Chronicle food reporters have carried around sound-level meters since the late 1990s), but in recent years the clamor against clamor has reached new heights. Like the open office, the loud restaurant seems to have overstayed its welcome.
"That's because loud restaurants are more profitable."
But of course. Read the whole thing.
---
Quarantine Kat
Life under the COVID-19 lockdown inspired Portland animator Jerold Howard to create "Quarantine Kat"—an animated character that channels Howard's daily struggles at home: from balancing the mundane with the profound, to the temptations of excessive snacking.
We can all identify with this cat, er, kat.
Thanks, as always, for reading. Please share and/or send comments any time. Be well.