I came of age in politics when it was considered a sin – a near mortal sin – to be caught in a lie or to be deemed guilty of a flip-flop. Now shameless lying and blatant position shifting are at the center of American politics.
It is a bad, awful, distressing time for facts. Everywhere you look politicians are shading and shifting or more often bald faced lying and changing positions for political advantage.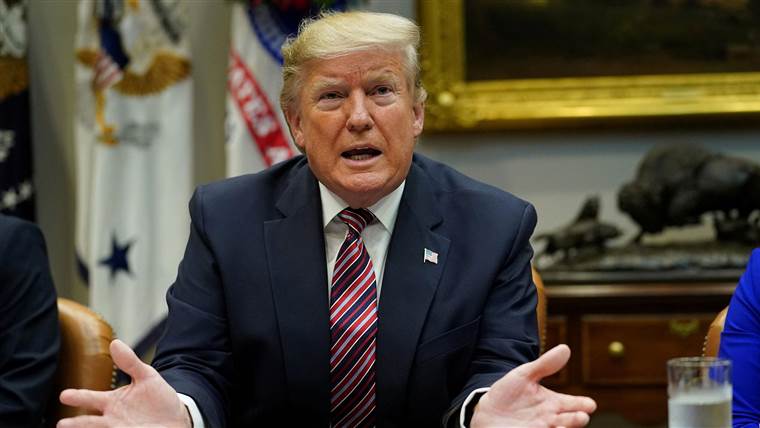 America's chief dissembler.
Nowhere is this denial of facts more obvious than Republican efforts to shuffle off the extent to which Russian influence has come to rest at the center of American politics. Republican senators and members of Congress regularly repeat Kremlin talking points on national television. The attorney general dismisses his own Justice Department inspector general's report that concluded that the 2016 counter intelligence investigation of Donald Trump's campaign was justified. And on the very day articles of impeachment are prepared against the president, Trump invites the Russian foreign minister to the Oval Office, a blatant display either of the president's hubris or proof that he really is under Vladimir Putin's thrall. 
It is worth remembering, which is difficult to do amid the chaos that has marked American politics for the last three years, that the trail that leads to Trump's seemingly inevitable impeachment by the House of Representatives always arcs back to Moscow, and not the one on the Palouse.
Trump will be impeached, of course, if not convicted for his efforts to bribe the president of Ukraine into announcing an investigation into a political rival. The operative word here is "announcing" since Trump could care less about political corruption in Ukraine. He merely wants a Twitter bat to swing repeatedly at Joe Biden, an outcome he has perhaps already succeeded in achieving. The mere announcement of investigations could be used, in the absence of real facts, to bludgeon a political opponent in the same way Hillary Clinton's emails drove the narrative for Trump in 2016. 
But the real connecting tissue here is Russia. Let's review.
In 2014, Russia "annexed" Crimea, a part of Ukraine, a former Soviet republic. Subsequently pro-Russian forces invaded eastern Ukraine. The Obama Administration led a unanimous Europe in condemning these actions, forced Russia out of the bloc of leading economic nations and imposed the first of a series of sanctions. Obama later sanctioned Russia for election interference.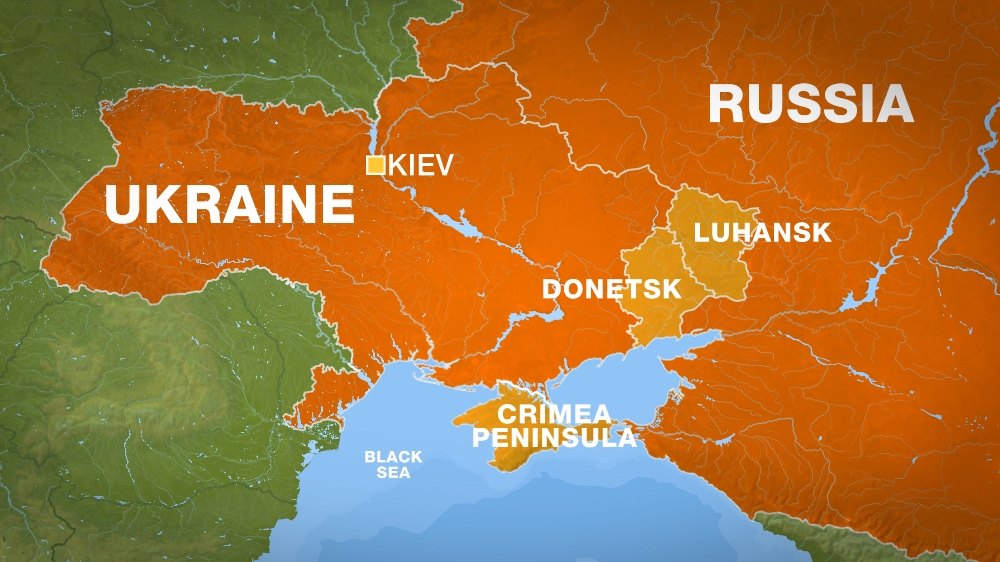 Putin rebuilds the Russian Empire with an assist from the White House and Republicans
For Putin these moves against the old Ukrainian Soviet republic, as Konstantin Skorkin wrote earlier this year in Foreign Affairs, "signaled Russia's rebirth as a great power, ready to ignore world opinion in the pursuit of its national interests." 
Enter the whole Trump-Russia thing, which is explicitly connected to Ukraine in a dozen very specific ways.
"The people of Crimea, from what I've heard, would rather be with Russia than where they were," Trump told an interviewer in 2016 as he echoed Kremlin talking points. Earlier this year Trump bizarrely claimed Crimea "was sort of taken away from President Obama," effectively absolving Putin of his obvious responsibility for an invasion and the resulting deaths of 10,000 Ukrainians. 
The Mueller investigation of Russian interference in the 2016 election makes clear – you really should read it – that Russia broadly and blatantly interference with the election to assist Trump and that he encouraged and welcomed the helped. Putin has admitted he was happy to see Trump elected knowing he would be a soft touch for continued Russian interference in Ukraine and elsewhere.  
Former national security advisor Michael Flynn is awaiting sentencing for lying about contacts he had with the Russian ambassador in December 2016 aimed at signaling the incoming administration would work to ease Obama's sanctions related to Ukraine. Trump's campaign chairman Paul Manafort is in jail for, among other things, money laundering related to work he did for pro-Russian elements in Ukraine, almost certainly at Putin's behest.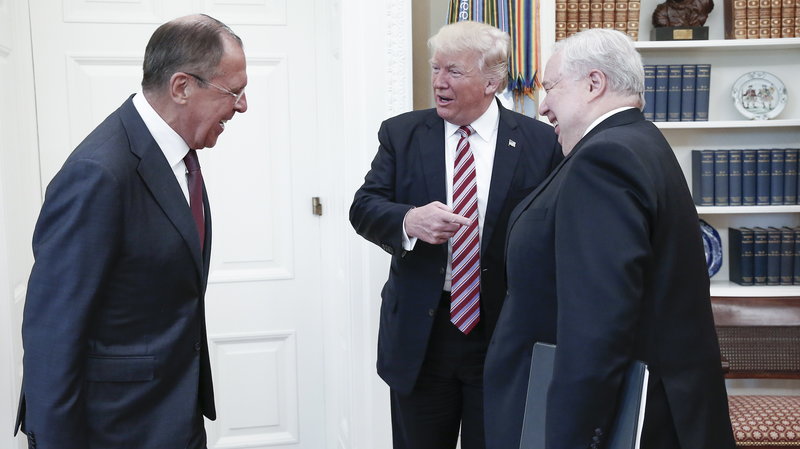 Trump yucks it up with the Russian foreign minister and ambassador the day after he fired the FBI director as part of the "whole Trump-Russia thing"
When Trump first met with Russian diplomats in the Oval Office shortly after he had fired the FBI director, he boasted that James Comey's dismissal took the heat off him. For good measure Trump then disclosed national security secrets to his Russian friends. That information was subsequently leaked to the Washington Post and Idaho's Jim Risch – bizarrely is the word here too – blamed the leakers and said Trump was within his rights to cavalierly declassify secret information. Risch was correct that Trump has that right, but doing so doesn't make it right. 
In the summer of 2018 Trump met face-to-face with Putin in Helsinki and when asked if he believed Russia had interfered in the election the American president sided with the former KGB operative over the unanimous opinion of U.S. intelligence officials. He then spun a word salad of misdirection and lies about the FBI, "the server" and Clinton's emails, a debunked conspiracy theory that Trump eventually connected back to… Ukraine.   
This chain of events, a Manchurian Candidate-like screenplay, rolls off the backs of Putin Republicans like water off a duck. Or perhaps a more apt metaphor: Russian disinformation clings to these Trumpian disciples like breadcrumbs on Chicken Kiev.
Now we daily confront the systemic lying by Republican elected officials who join Trump in advancing a totally fanciful narrative that Ukraine, the country Putin continues to war with, was really responsible for American election interference. Congressman Russ Fulcher has been sipping this crazy conspiracy Kool Aid lately, suggesting without a thimble of evidence, that former vice president Joe Biden is corrupt and that's why Trump was justified in pressuring the Ukrainian government.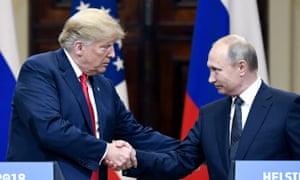 Trump meets with Putin in Helsinki and sides with the Russian dictator rather than U.S. intelligence agencies
You're left asking – and every member of Congress should be forced to answer – who really benefits from this embrace of Russian propaganda inserted into the American political bloodstream? Who benefits from advancing a false narrative about Ukraine and working to weaken a new pro-western government there? Who benefits from efforts to delegitimize career diplomatic officials, intelligence agencies and the press that has uncovered much of this sordid mess? Who benefits when Republicans like Fulcher side with Russia over the Constitution and labels an impeachment inquiry, one obstructed from the get go by the president, as a "shameful, sham of a coup."
How did the Republican Party get from Ronald Reagan's condemnation of "the evil empire" – the Soviet Union in the 1980s – to the embrace of a president who has courted, praised and enabled a Russian president who was once an intelligence agent of that evil empire and today seeks to rebuild it? 
The times are ripe with irony. The party that once prided itself on tough-minded reality in opposition to brutal authoritarians now celebrates a homegrown con man who embodies the kind of lawless thuggery Reagan once condemned.
Congressman Mike Simpson, the last Republican I would expect to embrace Russian fables, lamented Trump's looming impeachment by saying, "today is a dark day for our country." Simpson is right, but for all the wrong reasons. 
—–0—–