Three moments involving three older white guys serve to highlight the incredible events that have placed racism, inequality and the essential soullessness of Donald Trump's Republican Party in the middle of American life.
The first moment occurred in Buffalo, New York a few days ago when a 75-year-old man, Martin Gugino, was violently knocked to the ground by local police officers during a peaceful protest against racism. Gugino's head banged off the sidewalk and he immediately began bleeding. He was eventually transported to a hospital and spent several days in serious condition in intensive care. The video of the incident is difficult to watch, not least because one of the officers seemed to move to help Gugino but was prevented from doing so by a colleague as several other officers walked pass the elderly man as he lay motionless, blood around his head.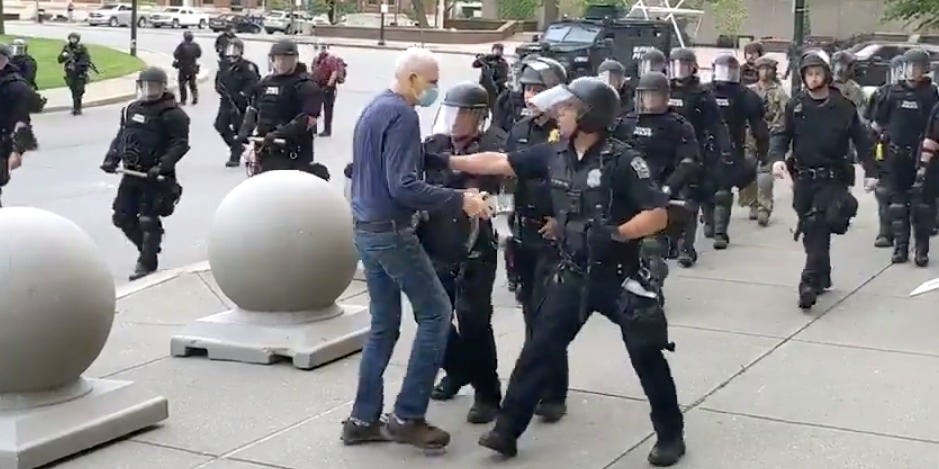 The second event occurred last weekend on the streets of Washington, D.C. when the most prominent political member of the Church of Jesus Christ of Latter-day Saints marched in a Black Lives Matter protest. Mitt Romney, the Republican senator from Utah, wearing a face mask with shirt sleeves rolled up, was asked by a reporter why had joined the protests that have spread to all 50 states. "We need to stand up and say that black lives matter," Romney responded. Romney's march was clearly motivated by his father, Michigan governor George Romney's strong support for civil rights in the 1960s. 
The third event was the reaction to the first two. Reasonable, decent people – even many who opposed Romney's presidential campaign in 2012 – praised his physical and verbal statement that was nothing less than an expression of solidarity with millions across the country who have been appalled by American racism and the murder of George Floyd in Minneapolis. Yet, virtually all the praise came from civil rights activists and Democrats. Romney's fellow Republicans were silent. Except for one. 
"Tremendous sincerity, what a guy," Donald Trump tweeted while cranking his caustic meter to hate speed. "Hard to believe," the president said of Romney, "with this kind of political talent, his numbers would 'tank' so badly in Utah!" As with most of what the demented demagogue in the White House says his tweet was all projection and lies. 
Romney's "numbers" are actually substantially better in Utah than Trump's, even accounting for his controversial, albeit historically correct vote to remove Trump from office earlier this year. An early June poll in Utah pegged Romney's favorable rating at 56, his unfavorable at 42. By contrast Utah's other senator, Republican Mike Lee, stood at 46 favorable, 47 unfavorable. 
Another Utah poll earlier this year found that 54% of the state's voters, among the most conservative in the county, would "probably or definitely not vote to re-elect the president in 2020." The same number of voters say they approve of Romney standing up to Trump. A late May poll had Trump up by only 3% on prospective Democratic nominee Joe Biden. 
It is worth recalling that Mitt Romney once stood atop the Republican Party and the Idaho GOP loved him. Romney received 64% of the Idaho vote in 2012 and the state's GOP leadership salivated at the thought of him in the White House. Jim Risch campaigned for Romney in Iowa and Colorado. Raul Labrador traveled with Romney's Spanish speaking son to events in Hispanic communities in Colorado and Nevada. Butch Otter also stumped for Romney in Nevada and lavished praise on the GOP nominee, presenting him with a Boise State football. That was then. Trump is now and not a word utters from these morally bankrupt flunkies who have so debased themselves that they dare not speak no matter how ugly the deprivations of their leader.
Yet the true depth of the depravity of the wholly owned Trump Republican Party goes even lower than the president accusing Mitt Romney of insincerity for calling out racism. The current low point of Trump wickedness came when the president peddled the ludicrous conspiracy theory that 75-year-old Martin Gugino was some kind of antifa radical trying to set up the cops who might well have killed him.
Gugino is actually a retired guy, a devoted Catholic, a peace activist who is well-known in his community for his quiet work on behalf of social justice, including repeatedly driving several hours in order to help prepare and serve meals at a facility whose mission is "follow(ing) Jesus in seeking justice for the poor." A friend said of Gugino what can never be said of the president of the United States: "I have never heard him use a vile or angry word against anybody." 
Romney condemned Trump's slander. Few other Republicans did.
[Idaho Senator James Risch was asked about the incident after this column went to press. He bobbed and weaved his way through a remarkably mendacious interview with Fox News host Neil Cavuto, never coming close to condemning Trump's disgusting slander and astoundingly ended up giving the comment credence.]
Still, there is a glimmer of sunshine amid the toxic clouds of lying, hatefulness, incompetence and political perversion that has overcome most elected Republicans in the age of Trump. Some conservatives are turning against the absurdity of it all. 
The stunts and gimmicks of the Republican reality television show have grown tired and worn and Trump's ugliness is about all that remains. In those Utah polls cited earlier, LDS women are leading the turn. By a substantial percentage they approve of Romney's brand of conservatism and reject Trump's. Perhaps these moms and grandmothers realize, as Romney clearly does, that a fraud has been perpetrated on the country and they are sick of the hate and exhausted by the moral corruption. 
Trump defenders, including those in high office in Idaho, have shown they will accept policies and pronouncements, incompetence and idiocy and once would have been unthinkable to them had it come from a Democrat. In various ways back in 2016 they all labeled candidate Trump unfit. Back then you could almost hear them say: "how could we go from Mitt to this clown?"
But now like Rich Lowry, the editor of the old Bill Buckley journal National Review, a magazine that once devoted an entire issue to Trump's unfitness, they have embraced their compromised morality. 
"There is no doubt that Trump's periodic blustery assertions of having total authority are gross, would freak out Republicans if a Democrat made them, and deserve to be condemned," Lowry wrote this week. But then Lowry immediately dismissed it all as a silly side show, saying "The president loves strength and is drawn to theatrical demonstrations of his own power."
Four years ago Lowry's magazine saw something else. "Donald Trump is a menace to American conservatism who would take the work of generations and trample it underfoot in behalf of a populism as heedless and crude as the Donald himself." Mitt Romney flirted briefly with the corrupt bargain that is Donald Trump. He had guts enough to reject the bargain. Were that Idaho's boneless wonders more like him. 
—–0——
Additional Readings:
Trump's March to Church for a Photo Op
A remarkable act of journalism by the Washington Post that I suspect will be a reference for years to come. "Drawing on footage captured from dozens of cameras, as well as police radio communications and other records, the Washington Post reconstructed the events of this latest remarkable hour of Trump's presidency, including of the roles of the agencies involved and the tactics and weaponry they used." Remarkable. Watch.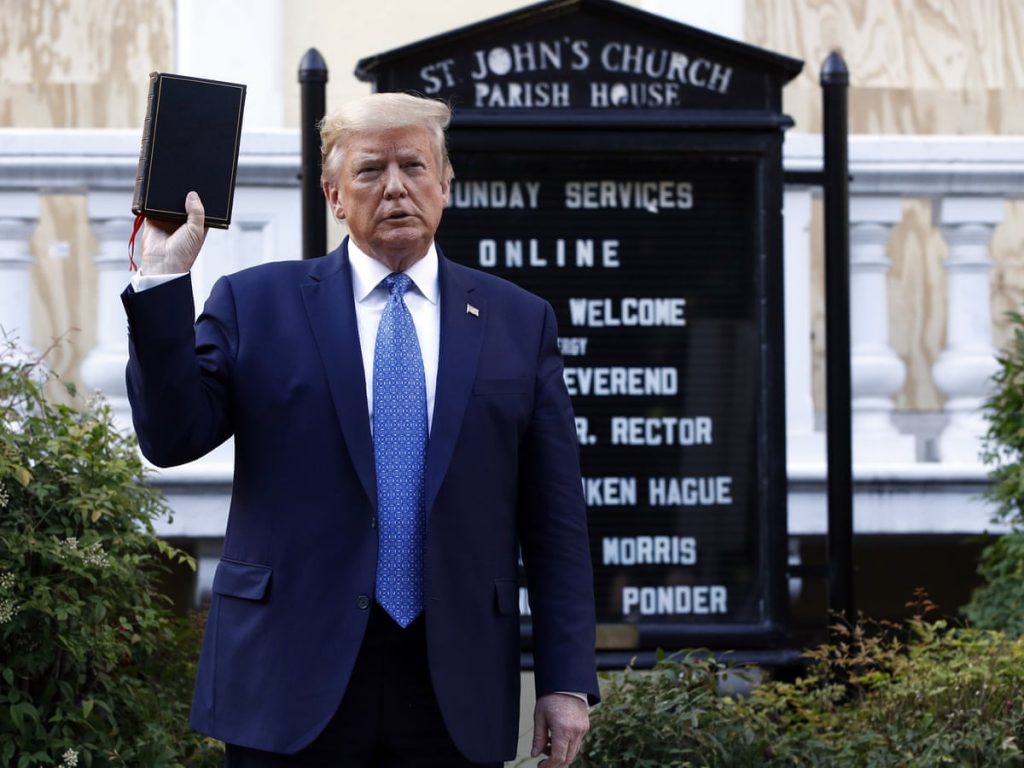 Experts Have Knew the Pandemic Was Coming
A fantastic long read about how the world's experts in such things knew a pandemic was coming and have known for a long time. But, too many in positions to really prepare didn't. Here is one nugget that hints at what needs to be done before the next one comes:
"A universal influenza vaccine would require a monumental scientific effort, on the scale of the billion-dollar annual investment that has gone into fighting HIV/AIDS. The price tag would be enormous, but since another population-devouring flu pandemic will surely visit itself on the globe at some point, the expense would be justified many times over. Such a vaccine would be the greatest public health triumph since the eradication of smallpox." Read it here.
The Editorial Page Flap at The Times
I don't always agree with media critic Jay Rosen, but I always read his work. In this piece he pulls apart the recent story that forced the resignation of the editorial page editor of the New York Times. Rosen writes:
"The Trump presidency is demagogic and mostly fact-free. What if there is no way to defend the government without practicing bigotry or demagoguery— or just making stuff up? This is the kind of question editors at the New York Times have tried to avoid. They want to declare it impossible. And by trying to avoid it, by declaring it impossible, James Bennet lost his way, then lost his job." Read the whole thing.
More Civic Education, Please
Danielle Allen is a brilliant Harvard scholar and political theorist who is a regular contributor to the Washington Post. She recently wrote a piece for Foreign Affairs that I couldn't agree more with. She calls for a renewed commitment to civic education: 
"In the United States today, the art of governance is, at best, on life support. Paradoxically, Trump has delivered the best civics lesson in generations. Thanks to his impeachment trial, Americans have had to think about the proper bounds of executive power, the checks offered by the legislative and judicial branches, and precepts of the Constitution. Thanks to his failure to govern through this crisis, many have learned for the first time just how the United States' federal system is supposed to work."
Thanks for reading. Be well.