It's not often you see the ruling class of an entire political movement publicly recant a fundamental tenant of its faith.
Yet, that is precisely what happened in the middle of the recent State of Union speech when the president of the United States openly called out Republican members of Congress for their generation's long obsession with rolling back (or eliminating) Social Security, a program established in 1935 during Franklin Roosevelt's presidency, and doing the same to Medicare, a critical part of the modern American social safety net established in 1965 during Lyndon Johnson's presidency.
Joe Biden actually got House and Senate Republican to stand and applaud the idea that Social Security and Medicare are off the political chopping block, a reality that some members of the GOP have embraced as they plot to destroy the country's credit rating by walking up to and perhaps beyond an extension of the debt ceiling.
It was a remarkable moment for Biden, but also for us old codgers who after a lifetime of contributions to both Social Security and Medicare are enjoying the benefits of both programs.
Of course, Republicans immediately howled about Biden's "lies" about the desire of some Republicans to gut the programs. The resulting uproar was a feast day for the fact checkers. Turns out Biden was correct about Republican desires, as anyone who has paid attention to American politics for the last, oh, 60 years or so knows.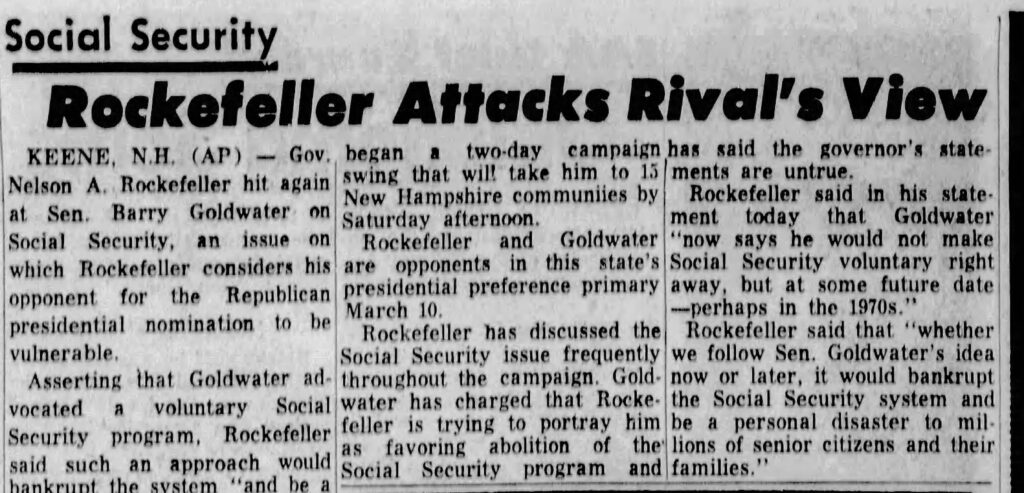 A couple of data points:
On February 28, 1964, the old Spokane Chronicle newspaper carried a story with a Keene, New Hampshire dateline. Under the headline "Rockefeller attacks rival's view" the Associated Press reported that Nelson Rockefeller, the governor of New York, was criticizing Arizona Senator Barry Goldwater's plan to make Social Security voluntary. The two men were Republicans were rivals for that year's GOP presidential nomination. Such a plan, Rockefeller insisted, would bankrupt the program and threaten the economic security of millions of American seniors. Goldwater eventually won the nomination and spent much of his campaign trying to walk back his position on Social Security. Goldwater lost the presidential election in a landslide, in part because Lyndon Johnson ran a blistering TV spot that featured a pair of hands ripping up a Social Security card.
After George W. Bush's re-election in 2004 he went all in on privatizing Social Security. "I earned capital in this campaign, political capital, and now I intend to spend it," Bush said as he began a campaign to "reform" the program. "As we fix Social Security," Bush said, "we also have the responsibility to make the system a better deal for younger workers. And the best way to reach that goal is through voluntary personal retirement accounts." The Bush push deflated like a Chinese spy balloon.
It's ancient history now, but you may remember one-time Texas governor Rick Perry, the guy who couldn't recall the federal Cabinet-level agencies he wanted to eliminate as he ran for president in 2012. Perry, never the sharpest pencil in the box, labeled Social Security a "Ponzi scheme" during his campaign. After many Americans Googled "Ponzi scheme," Perry started his own great walk back. He never recovered as a candidate.
The list of other Republican Social Security reformers is long, very long. Florida Senator Rick Scott currently has a plan, clearly part of what Biden was riffing off. Florida Governor Ron DeSantis, the would be next president, advocated privatizing Social Security and changing Medicare when he was in Congress. Former House Speaker Paul Ryan made "reform" of the fundamental American safety net the centerpiece of his entire approach to the federal budget.
Utah Senator Mike Lee got colorful with his aims regarding the programs when running in 2010. "It will be my objective to phase out Social Security, to pull it out by the roots," Lee said. That gardening work was his reason for running, Lee said, adding, "Medicare and Medicaid are of the same sort. They need to be pulled up."
Lee was captured on camera during the State of Union vigorously denying any concerted GOP plan to do just what he once advocated. He looked like a kid with a mouth full of chocolate denying to his mom that he had raided the chocolate stash. Mikey knew nothing, nothing.
Liberals have long been accused of being paranoid about conservative guns trained on the benefits Americans are entitled to collect, but the truth is you're not paranoid when they really are out to get you.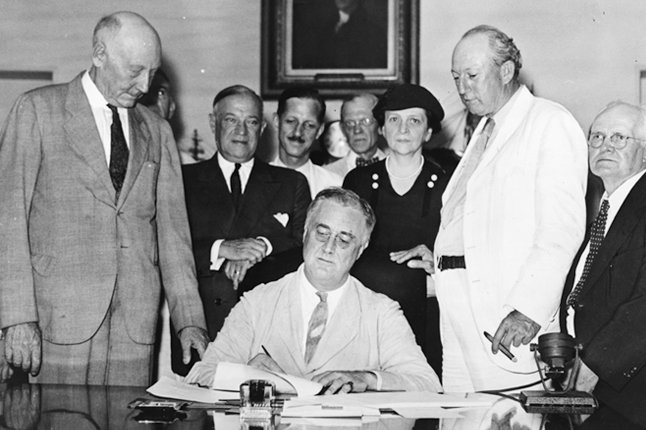 Before we completely outlaw the teaching of actual American history, it's worth remembering that Social Security was created during some of the worst days of the Great Depression precisely because older Americans were some of the hardest hit by the economic calamity that struck the country. The original Social Security law also established the broad outlines of the unemployment insurance program still in effect. Despite growls that the program was a stalking horse for rank socialism, the program passed Congress with broad bipartisan support. That hasn't kept Republicans from trying to dismantle it ever since.
Of course, the programs need both vigorous defense and occasional amendment. The only responsible way to shore up both is to raise taxes, as has been done before. The last significant bipartisan effort occurred in 1983. The changes were supported by Ronald Reagan and Tip O'Neill.
It is possible to make the programs work better, but that won't happen when significant numbers of one party always begin with speeches about reducing benefits, extending eligibility dates and fundamentally altering an enduring and extremely important program designed to provide a foundation of economic security for millions of people.
The real genius of Social Security, and later Medicare, was certainly in the economic and medical benefits the programs provide, but there is more to it. In a country as large, diverse and contentious as ours, a program with near universal participation and with benefits easily understood is a very good thing. We're all in it together. We have a shared interest in making it work. We are better off as a country when our neighbors have a basic level of economic and health security in their later years.
Franklin Roosevelt knew what he was doing. When he signed the law on August 14, 1935, Roosevelt said: "We can never insure one hundred percent of the population against one hundred percent of the hazards and vicissitudes of life, but we have tried to frame a law which will give some measure of protection to the average citizen and to his family against the loss of a job and against poverty-ridden old age."
It still works, and Republicans are finding out once again that it's dangerous to mess with success.
—-0—-
Additional Reading:
A few other items you may find of interest …
More Than A Meal: How White House Dinners Shape Presidential Policy
"Like any other house, the White House runs on food. But no other building represents the presidency, or is subject to as much scrutiny, as 1600 Pennsylvania Avenue. It is at once a home, a busy office, a social hub, a decorative arts museum, the only residence of a national leader that invites the public inside, a "fortress disguised as a home" Michelle Obama said, and, as Jackie Kennedy put it, "an emblem of the American Republic." In short, the Executive Mansion is the most powerful house in the world. And so it follows that the meals and food policies created there are among the most influential in history."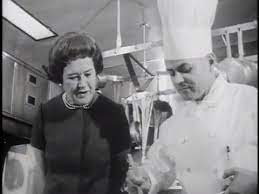 Great piece on the White House dinner and why it matters.
The White House dinner piece sent me in search of a documentary the great Julia Child hosted in 1968. It is surely worth your time.
White House Red Carpet with Julia Child.
---
How One Week in Chicago Changed Abraham Lincoln's Life—and the Fate of the United States
It is easy to think of the 16th president as the nation's indispensable man, his presidency some how foreordained. But nothing about Lincoln's rise to the presidency was easy or inevitable.
"Lincoln himself had told people he did not think himself fit for the presidency, and two years earlier he declared, with roaring laughter, 'Just think of such a sucker as me as President!' Even while lining up support, Lincoln did not formally declare his presidency. He told a close ally: 'The taste is in my mouth a little.'"
Excerpt from an interesting looking new book.
---
On Parents, Connections with Strangers, and Embracing What You Have
And finally David Sedaris.
"Career-wise, I don't have regrets. I've been offered the opportunity to write TV shows and movies, but I've never cared about that, so I wouldn't regret not doing it. I often tell myself that if my career were taken away, I really enjoyed it while I had it."
---
Thanks. That's it for today. See you again soon.