---
     "Donald Trump delivered a very good foreign policy speech in which he laid out his vision for American engagement in the world."
Statement by Tennessee Republican Senator Bob Corker.
——–
The nation's Republican "elites" have entered the final stage of grief – acceptance.
After wringing their hands for months over the prospect that the most demonstrably unprepared person to every get near a presidential nomination would hijack their party and drive it over a cliff, the GOP "elites" now face the almost certain reality that a race-baiting, woman-hating, foreign policy clueless narcissist will be their presidential candidate.
The denial, distress, disbelief and all the "stop Trump" efforts have now arrived at what conservative columnist David Brooks calls "a Joe McCarthy moment." Every Republican officeholder, every consultant and lobbyist, every American conservative who wakes up, looks in the mirror and sees an engaged, thoughtful citizen will forever be measured by where they stood on the defining political issue of our time: Do you support Trump?
Republicans once had the guts to say "No" to a man bent on destroying their party and the country. Will enough of them do it again?
The GOP's McCarthy Moment…
In the 1950's, Republican members of the United States Senate, not Joe McCarthy's Democratic opponents, finally brought the red-baiting, fear-promoting GOP demagogue of that generation to heel. Vermont Republican Ralph Flanders stood on the Senate floor on March 9, 1954 and spoke directly to McCarthy. It was the beginning of the end of the McCarthy Era. Read the speech today in the Era of Trump, 62 years after Flanders spoke, and its insights ring true, eerily so.
"Mr. President," Flanders said, "the junior senator from Wisconsin interests us all – there can be no doubt about that – but also he puzzles some of us. To which party does he belong? Is he a hidden satellite of the Democratic Party, to which he is furnishing so much material for quiet mirth? It does not seem that his Republican label can be stuck on very tightly, when, by intention or through ignorance, he is doing his best to shatter the party whose label he wears. He no longer claims or wants any support from the Communist fringe. What is his party affiliation?"
Flanders conclusion about Joe McCarthy then could well be applied to Donald Trump today. "One must conclude that his is a one-man party, and that its name is 'McCarthyism," a title which he has proudly accepted."
McCarthy, driven by ego and political opportunism, was missing the point, Flanders argued. America had enemies to confront and issues to address, just not the ones McCarthy pursued blindly and ruthlessly. Trump is the second coming of the authentic Republican demagogue.
Not all of Flanders' constituents approved of his speech, but many did and  the bookish Vermonter – he authored or co-authored eight books – had his McCarthy moment, which still stands as an enduring example of great political courage and genuine intellectual honesty. Flanders later introduced the resolution that ultimately led to McCarthy's censure by the Senate.
Even then Senate Republicans split evenly over condemning an odious and dangerous man. Twenty-one Republicans joined Ralph Flanders in rejecting McCarthy and his tactics. Twenty-two others have had to answer to history for failing to condemn a fomenter of discord and discontent.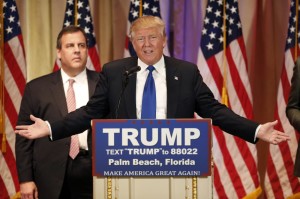 The shameless and self-promotional among the GOP have, of course, already made their decision about Trump. Chris Christie, once a semi-serious political figure who might have re-defined his own diminished brand by shunning Donald J. Trump, did just the opposite. Christie blew past his McCarthy moment and voted demagogue.
Newt Gingrich, the disgraced former House Speaker who is just as desperate to remain "relevant" as Christie, allows as how he would be available to serve as Trump's running mate should the great man pick up a gold plated cellphone and bring Gingrich back to political life.
The Shameless and Self-Promotional…
Alabama Senator Jeff Sessions endorsed Trump early, as did Trump's female political doppelgänger Sarah Palin. And Utah Senator Orrin Hatch, who has already endorsed two other Republican candidates, now says, "It looks to me like he's going to win, and if he does, I'm going to do everything in my power to help him." Even the formerly sane Jon Huntsman says Trump's his guy.
Tennessee Republican Senator Bob Corker, often an example of the levelheaded conservative, sent shivers down the spine recently when he actually praised Trump's completely incoherent "major foreign policy speech." It was the precise moment, with all Trump's ignorance and bluster on display, for the chairman of the Senate Foreign Relations Committee to declare the blowhard-in-chief unfit for the awesome responsibilities he seeks. Corker punted. Count on more doing the same. Count on them living to regret it.
In addition to their McCarthy moment, the Republican Party, at least the "elites," face an existential question: Do they embrace this awful man, the very essence of division and lack of seriousness? Or do they broadly reject the modern equivalent of Joe McCarthy and risk, as a Ralph Flanders did in the 1950's, the wrath of those drawn to his message of division and hatred? Either way they risk blowing up their party for an election cycle or maybe a generation or maybe forever.
Trump's new political wise guy, Paul Manafort, a fellow who made his political fortune representing repressive thugs from places like Ukraine and Angola, is confident the "elites" will come around to his new boss. "As he becomes the Republican nominee, there will be a consolidation behind him," Manafort told the Washington Post's Dan Balz. "Once he is the nominee, some of that is going to come down naturally. . . . It's a big deal when you're the presumptive nominee as opposed to being the nominee."
The media will also get even more on board as the general election nears. The political press, particularly television, which loves the thought of the looming contest between Trump and Democrat Hillary Clinton and has done so much to enable Trump's rise, will soon began to offer up more of what we might call the "coverage of false equivalency."
Trump's utter lack of political experience will continue to be portrayed as an advantage as opposed to the grievous risk it represents. His shady business dealings and stunning lack of historical perspective on foreign policy will receive short shrift when he turns full-time to trashing "Crooked Hillary." And trivialities like Trump's endorsement by the reprehensible character that once coached the Indiana University basketball team is treated as if it mattered to the future of the republic. It doesn't, by the way.
Do They Really Hate Hillary So Much…
The company Trump's keeps, from Bobby Knight – Trump misspelled the name of his "dear friend" – who was given to throwing chairs and assaulting his players, to convicted sex offender Mike Tyson, is treated as though it is all just part of a rollicking reality television show passing as a presidential campaign. It should be reported for what it is, a window into what passes for the man's soul. Get over waiting for the media, especially television, to bring down Trump. That's like waiting for Godot. Not going to happen.
Clinton's flat-footed, unimaginative, uninspiring candidacy is apparently all that now stands in Trump's way and (I can't believe I'm writing this) it may not be enough. Trump has controlled the political narrative every single day since he slid down his own escalator and into position as Republican frontrunner. There is no reason to believe he won't continue to dominate, unless that is those with standing in the party he plans to takeover decide to really push back.
This is their Joe McCarthy moment. Do they really hate Hillary so much they would risk turning the country, not to mention their party, over to this dangerous buffoon?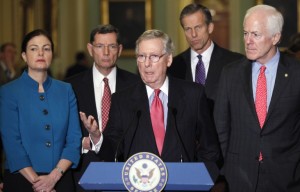 In a remarkable and utterly sobering article in the most recent New York Magazine, Andrew Sullivan summed up our national dilemma: "An American elite that has presided over massive and increasing public debt, that failed to prevent 9/11, that chose a disastrous war in the Middle East, that allowed financial markets to nearly destroy the global economy, and that is now so bitterly divided the Congress is effectively moot in a constitutional democracy: 'We Respectables' deserve a comeuppance. The vital and valid lesson of the Trump phenomenon is that if the elites cannot govern by compromise, someone outside will eventually try to govern by popular passion and brute force."
Enter Trumpism.
Republicans, of course, brought much of this on themselves, but pointing that out now is about as useful as engaging in the false equivalency that says the candidacy of a hateful, arrogant, uninformed demagogue is really just the same as that of an experienced candidate. Even with her all too obvious "trust" issues, Clinton has served as first lady, a U.S. senator and secretary of state. She is competent and informed. The almost certain Democratic nominee isn't my first or even eighth choice for president of the United States, but good lord she is no Donald Trump.
Andrew Sullivan puts it directly to those Republicans who waffle and waver about whether to push in their chips with Trump, as well as those who will just pretend to ignore him. "They should resist any temptation to loyally back the nominee or to sit this election out," he writes. "They must take the fight to Trump at every opportunity, unite with Democrats and Independents against him, and be prepared to sacrifice one election in order to save their party and their country.
"For Trump is not just a wacky politician of the far right, or a riveting television spectacle, or a Twitter phenom and bizarre working-class hero. He is not just another candidate to be parsed and analyzed by TV pundits in the same breath as all the others. In terms of our liberal democracy and constitutional order, Trump is an extinction-level event. It's long past time we started treating him as such."
A handful of Republican consultants, a few conservative journalists and columnists and one GOP senator, Nebraska's Ben Sasse, have drawn a line they will not cross to support a political pretender. It's not enough.
This really is a Joe McCarthy moment for the Republican Party and the nation. Republicans should be asking where are the Ralph Flanders?