"They were careless people, Tom and Daisy – they smashed up things and creatures and then retreated back into their money or their vast carelessness or whatever it was that kept them together, and let other people clean up the mess they had made."
F. Scott Fitzgerald, The Great Gatsby
———
Good Lord it is tough work explaining let alone supporting Hillary Clinton.
She may be the living proof of the old political axiom that the worst wounds are self-inflicted. She is the poster child – at least the Democratic poster child – for secretive, damaging dissembling. A very sophisticated political friend suggests an apt analogy: Clinton is the American version of Dodgy Dave Cameron, the newly deposed British prime minister. Both crave power for power's sake with few core convictions and even less shame.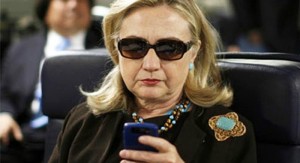 Clinton's email debacle will be recorded as among the worst handled "political scandals" in modern times. An original stupid decision to use a private email set-up rather than a government run system – why she did it can only be explained by the secretive side of Hillary, the side hoping to never have to explain anything during her State Department tenure – was compounded by the cover up. For weeks – months – she ham-handedly strung out the story, never admitting until really forced to do so that the whole thing was a stupid mistake. Now the director of the FBI has pointed out for the world and for Donald Trump all the inconsistencies and incompetence. Clinton was not criminal, just "extremely careless," said James Comey. Now that is a great campaign slogan: "She may be careless, but at least she is not criminal."
One holds out the hope that Clinton will be a better president than she has been a would be president. She has a tin political ear, a well-developed capacity to foster mistrust and, considering she will be the first woman nominated as a major party presidential candidate, a remarkable inability to stir enthusiasm. Among the best things you can say about Hillary Clinton is that she is not Donald Trump. Another good bumper sticker.
Clinton is in for a rough few days, but her good news is that the country is just days away from watching what will surely be a bat s@#t crazy spectacle of a Republican convention where the GOP will turn over the party to a pathological liar whose latest contributions to American politics has been to energize white supremacists and Neo-Nazis, while praising Saddam Hussein.
Ask yourself what is worse: an ethically challenged careerist with a lust for power who believes, along with her husband, that the rules don't apply to them…or Donald Trump?
Clinton's handling of her email scandal combined with the stunning takedown of her "carelessness" by the FBI director would be disqualifying for any other candidate any of us can think of, but this is a two person race and the other person is a racist bully whose impossible boasts and claims and nonsense should be cause for a mental health intervention.
Campaigns come down to a choice between two people, most often two flawed people. This is our choice in 2016 and it is ugly and dispiriting and disappointing. Clinton will be a better president, I hope and suspect, than she has been a candidate. With Trump what you see is what you get. One person will muddle through, while the other may well destroy the country.
There is a danger here – we are already seeing it in press coverage of the two candidates – of false equivalence. Clinton with all her faults is not Trump. The email scandal is serious stuff. Trump's demeanor, his temperament, his incoherence and ignorance are disqualifying. There is no equivalence between the careless and the utterly dangerous.
Like Scott Fitzgerald's Tom and Daisy Buchanan, Bill and Hillary Clinton are reckless people with a remarkable sense of entitlement. Not much to admire here. The messes they have made are legion. But the other guy represents a level of evil, intolerance, racism and hate not seen at least since George Wallace in 1968.
So we beat on, boats against the current…and I'm with the careless one.