Back in 1968, that awful year of assassinations, racial unrest, campus upheaval, war and political demagoguery – a year the writer Mark Kurlansky has said where "ideologies were seldom clear, and there was widespread agreement on very few things" – a diminutive racist from Alabama was at the height of his powers. 
George Corley Wallace was certainly not the first American politician to mobilize white grievance, but until the arrival on the scene of the current occupant of the Oval Office the Alabama governor did more than anyone else to perfect the politics of fear and division.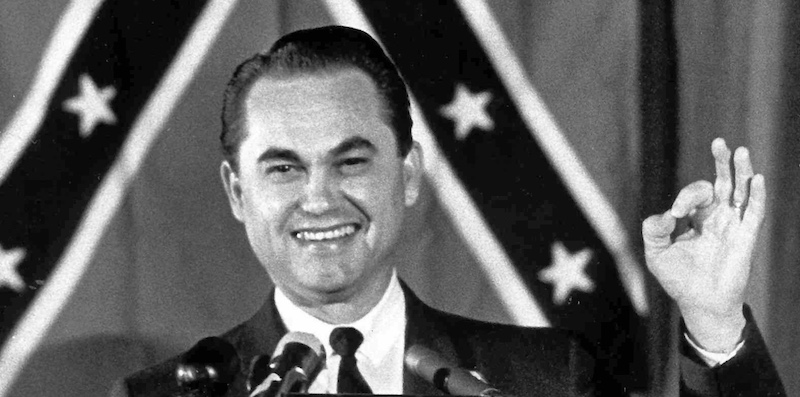 It was no accident the historian Dan T. Carter entitled his brilliant biography of Wallace The Politics of Rage. Wallace, who ran for president four different times, was, Carter wrote, "the alchemist of a new social conservatism as he compounded racial fear…[and] cultural nostalgia." 
When Wallace made his most aggressive presidential run in 1968 at the head of his short-lived American Independence Party, he won the electoral votes of five deep south states. Wallace's campaign of fear and racial division prompted no less a political strategist than Richard Nixon to later admit that he carefully calibrated his own positions in order to head off Wallace's appeal to white voters. It worked. 
Wallace's appeal to white grievance helped birth the Republican "southern strategy" that has been at the heart of the party's White House calculus ever since. Nixon won every state of the old Confederacy that Wallace failed to carry in 1968 with the exception of Texas, which he only narrowly lost to Hubert Humphrey. 
If Nixon's long-ago appeal for "law and order" in service of "the silent majority" sounds familiar that's because it is, updated now and applied to a cratering Trump re-election effort. But Trump is borrowing less from Nixon's thinly veiled appeal to white grievance than he is appropriating the racist language of George Wallace.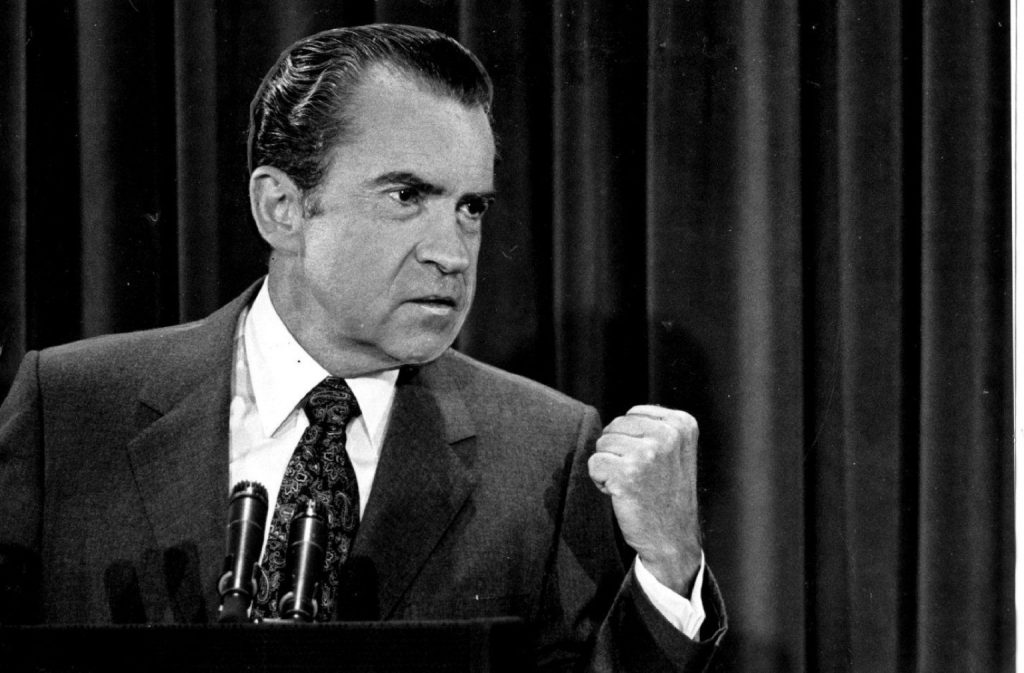 Where Wallace said of civil rights and anti-war protesters "the people know the way to stop a riot is to hit someone on the head," Trump tells police to "not be too nice" and demands that the nation's governors "have to dominate or you'll look like a bunch of jerks, you have to arrest and try people." 
Wallace repeatedly made snarling attacks on street protesters who he claimed, "turned to rape and murder," while Trump fumes about "Mexican rapists" and immigrants who "aren't people," but "animals."
Trump's re-election message can't focus on the economy. It's in shambles. His handling of the global pandemic, with the U.S. leading the world in death and disease, is a national tragedy and an international embarrassment. In three states – Florida, Arizona and South Carolina – new coronavirus cases are growing faster than in any country in the world. 
There has never been much of a Trump policy agenda and there is even less of one now. All he has is resentment and race. How else to explain the presidential attack on the only Black NASCAR driver or the defense of the Confederate flag and monuments that recall our deeply racist past.
"It's not about who is the object of the derision or the vitriol," Eddie Glaude, the chair of the Department of African American studies at Princeton University, told the Associated Press. "The actual issue is understanding the appeal to white resentment and white fear. It's all rooted in this panic about the place of white people in this new America."
As outrageous as Trump's rhetoric has become you can bet it will get worse as the election slips toward an anti-Trump landslide. It is beyond Trump's ability to give the country what it longs for: a common purpose. 
Imagine had Trump tried to unite the nation behind the shared mission of defeating the pandemic? But he can't do it.
"If he could change, he would," says Cal Jillson, a presidential scholar at Southern Methodist University in Dallas. And even when, as Jillson says, the message of fear and racial animosity is "not helping him now. It's just nonstop. It is habitual and incurable. He is who he is."
And like ol' George Wallace more than 50 years ago Trump always digs deeper even as the hole consumes him. In his authoritative history of the 1968 campaign, journalist Michael A. Cohen writes that "Wallace deliberately sought to ratchet up intense, racist emotions at his campaign events" where violence was not uncommon. Cohen quotes a Wallace aide as saying it was all calculated to be "purposely…inflammatory" in order to draw attention and demand press coverage. Cue Fox News. 
Still there are many signs that the old Trump reality show – fear and loathing on the campaign trial – just isn't working. As Jonathan Lemire and Calvin Woodward of the Associated Press wrote after Trump's hyperbolic Mt. Rushmore speech: "These are times of pain, mass death, fear and deprivation and the Trump show may be losing its allure, exposing the empty space once filled by the empathy and seriousness of presidents leading in a crisis.
"Bluster isn't beating the virus; belligerence isn't calming a restive nation."
You can hear restive Republicans taking the first tentative steps to distance themselves from the coming disaster. There was panic in the air when five GOP senators announced this week they'll stay away from the Republican convention in August, a move seen for what it is – distance from Trump. There will be more. 
Still, by ignoring Trump's racism and division for so long in the interest of allowing their leader to remake their party into a petri dish where white grievance and cultural anger metastasize, Republicans, even those quietly bemoaning his tactics, will never succeed in cleaning this stain. Republicans, like the cowardly sheep who represent Idaho in Washington, D.C., bought the racist and now they own the racism. 
George Wallace, unlike Donald Trump, never made it all the way to the White House, but both men sadly prove an enduring point about our troubled country. The journalist Marshall Frady summed up the consequence – and danger – of such figures when he wrote in 1968: "As long as we are creatures hung halfway between the mud and the stars, figures like Wallace can be said to pose the great dark original threat." 
—–0—–
Additional Reading:
Sticking with Trump
Tim Miller is a #NeverTrump conservative, a former top adviser to Jeb Bush and a pretty fair writer on our current politics. His piece recently in Rolling Stone where he sampled Trump opinions from the GOP consulting class received a good deal of attention. It's good. He writes: 
"These swamp creatures were never the biggest Trumpers in the first place — his initial campaign team was an assortment of d-listers and golf course grunts rather than traditional GOP ad men. So why, as Trump's numbers plummet, are these establishment RINOs continuing to debase themselves to protect someone who is politically faltering and couldn't care less about them?"
The answers are both enlightening and sad.  You can read it here.
How a History Text Book Might Explain 2020 So Far
James West Davidson writes history text books. He says in a piece in The Atlantic:
"By now it seems clear that we are all living through a major turning point in history, one that will be studied for years to come. Future textbook authors will write entries on the year 2020, revise them, and revise them some more with each new edition. What follows is an attempt at—literally—a first draft of history: what I might write if I were wrapping up the last chapter of a high-school history textbook right now."
Read it and you may be surprised, as I was, about how stunning the events of our time seem when they are compressed into a single, tight narrative.
Tom Hanks
I don't normal spend much time with celebrity profiles, but I'll make an exception for Tom Hanks.
Hadley Freeman has a charming Hanks profile in The Guardian. She writes: "It's true that, since I last interviewed him, his demeanor has shifted slightly from the nice Jimmy Stewart 'aw shucks'-ness he had going on, to something more akin to the beatific kindness of Fred Rogers, 'a part people like you would say I was born to play,' he says. 'For A Beautiful Day in the Neighborhood, I ended up reading a lot of [Rogers] and he put ideas into words for me. There's no reason not to greet the world with some kind of kindness.'"
Good observation. Read the entire profile. 
And finally…One of Ours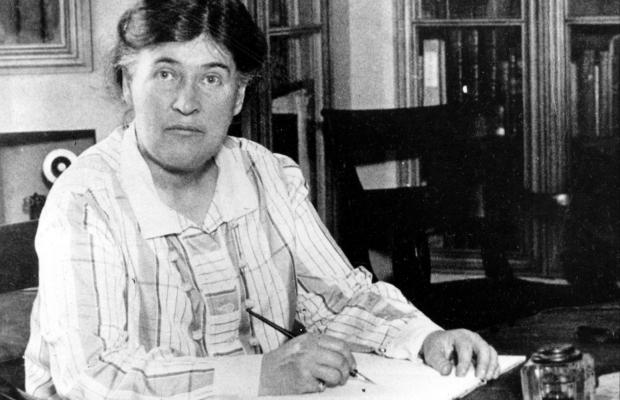 Alex Ross writes in The New Yorker about Willa Cather's enduring and under appreciated novel of war and loss. "When I revisited One of Ours in recent weeks," he says, "I found it as haunting as anything I've read in this bewildering year. What seized my attention, not unexpectedly, was the section devoted to the flu pandemic of 1918." 
I love Cather's book. And am also a big fan of Ross's book The Rest is Noise, which changed the way I think about music. It's a classic.  
Thanks for following along here. All the best.